Nigeria's security worries ahead of June qualifiers
By Oluwashina Okeleji
BBC Sport, Lagos
Last updated on .From the section Football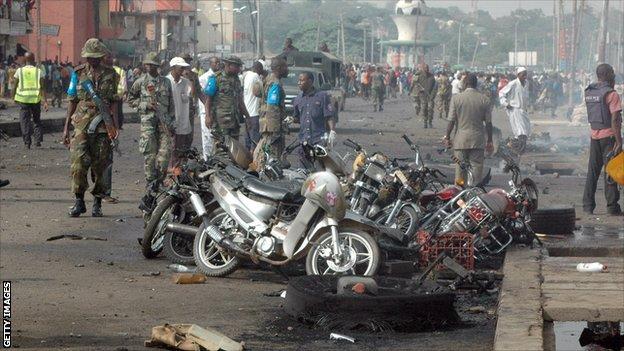 The Nigerian Football Federation admit they have a security headache ahead of their 2013 Africa Cup of Nations and 2014 World Cup qualifiers in June.
The two home matches were set to be played in the northern city of Kaduna.
But some players and officials have expressed concerns about playing in the city following a bombing over Easter which killed more than 30 people.
The concerns will not have been helped by another blast at a newspaper's offices in Kaduna on Thursday.
There was also a further attack in the capital Abuja.
The NFF is now seeking help from the government on the matter.
"We are concerned about the situation and will consider the safety of fans, players, officials and everyone that will be involved," NFF board member Chris Green told BBC Sport.
"A venue or venues for these games will be made known to the public at the right time.
"Importantly, we'll seek the help and direction of the government before making our decision.
"We can assure our visiting opponents that safety is paramount and the NFF will ensure that is taken care of."
The Super Eagles' traditional home venue, the Abuja national stadium, is in a poor condition, with one official quoted as saying it would require about US$500,000 to fix.
Hence Kaduna being earmarked to host the World Cup tie against Namibia on the opening weekend in June as well as the Nations Cup qualifier second leg against Rwanda a fortnight later.
Despite Zambian concerns Kaduna did host a friendly against the eventual African champions in November last year, which the Super Eagles won 2-0.