Sunderland: Larsson and Richardson undergo surgery
Last updated on .From the section Football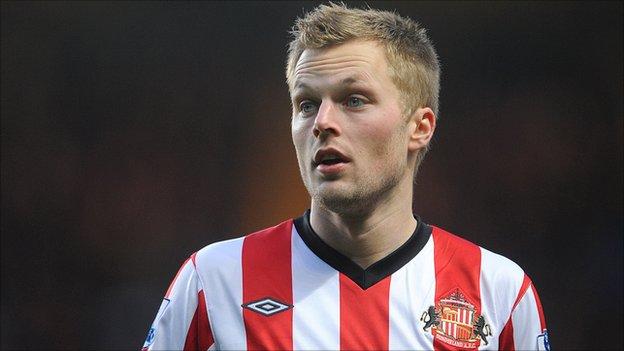 Sunderland boss Martin O'Neill has confirmed Sebastian Larsson and Kieran Richardson will miss the rest of the season following hernia operations.
However Sweden international Larsson, 26, is expected to be fit to play his part in his country's 2012 European Championships campaign this summer.
"In terms of recovery time, it's about three or four weeks or so," O'Neill told BBC Newcastle.
"It gives Sebastian a chance of playing well in the Euros."
Larsson has been a regular fixture under both Steve Bruce and Martin O'Neill, and has missed only three of the Black Cats' Premier League fixtures this season.
"Seb has been complaining for a number of weeks really, but he's played through it," O'Neill added.
"He's not been able to train properly, but he's given everything for the cause, and it wasn't on his instigation.
"He was prepared to play on until the end of the season, and then go into the Euros with Sweden under the same position.
"So I thought to give him a chance, and he's deserved it, he's put his heart and soul into it, played through illness, to give him a chance of playing well at the Euros we'll put him in.
"It also means after the Euros he can have a break, not worrying about an operation and maybe delaying the start of next season."
O'Neill added: "Kieran's is a much more recent problem, up until about 10 days ago he didn't notice any problem, and neither did we.
"He was complaining, went to see the specialist and felt the same thing, and the irony is they both went in the same day."