Chelsea-QPR handshakes cancelled because of Terry case
Last updated on .From the section Football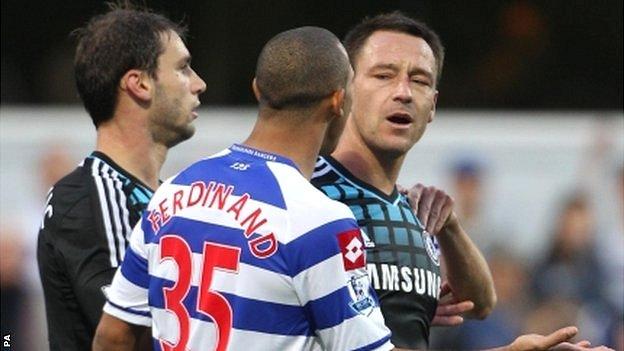 The Premier League has announced there will be no pre-match handshakes at Sunday's game between Chelsea and QPR because of the legal case involving John Terry and Anton Ferdinand.
Chelsea skipper Terry is accused of racially abusing QPR's Ferdinand during a match at Loftus Road in October.
He denies the accusation but faces a court case, which starts on 9 July.
Ferdinand's lawyers had told him not to shake Terry's hand for fear that it could prejudice the forthcoming trial.
"The Premier League position on the pre-match handshake convention remains consistent," said a Premier League statement. "In all normal circumstances it must be observed.
"However, after discussions with both Chelsea and Queens Park Rangers about the potential and specific legal context in relation to John Terry and Anton Ferdinand, the decision has been taken to suspend the handshake convention for Sunday's match."
When the clubs met in the fourth round of the FA Cup in January the pre-match handshake was cancelled.
The QPR defender has told his manager and friends that he is in the right frame of mind to play on Sunday, despite the hostile atmosphere he is expected to face.
Terry was stripped of the England captaincy in February after he was charged by the Crown Prosecution Service with racially abusing Ferdinand.
The Chelsea defender has endured a difficult week, having been sent off for kneeing Alexis Sanchez in the back during Chelsea's Champions League semi-final victory over Barcelona. As a result he will be suspended for the final against Bayern Munich.
In February 2010, former team-mate Wayne Bridge publicly refused Terry's offer of a handshake before Chelsea's game with Manchester City. Bridge's decision followed allegations that Terry had an affair with the left-back's ex-girlfriend.
The pre-match handshake has also been a source of controversy this season. In February Liverpool striker Luis Suarez refused to shake Manchester United defender Patrice Evra's hand prior to the Reds' 2-1 defeat by United.
That followed on from Evra accusing Suarez of racially abusing him. The Liverpool player later apologised.
The Premier League has previously insisted the ritual, which it introduced into the top flight in 2004, is an important part of the game.
"It's not a handshake that says everybody loves everybody else," said Premier League chief executive Richard Scudamore last month.
"It's a handshake that says 'whatever's gone on before now and whatever will go on after this game is over, for the next 90 minutes, let's just play a game of football'.
"It's nothing more symbolic than that, which is why in our view, they should continue - period."