Southampton boss Nigel Adkins sure of promotion
Last updated on .From the section Football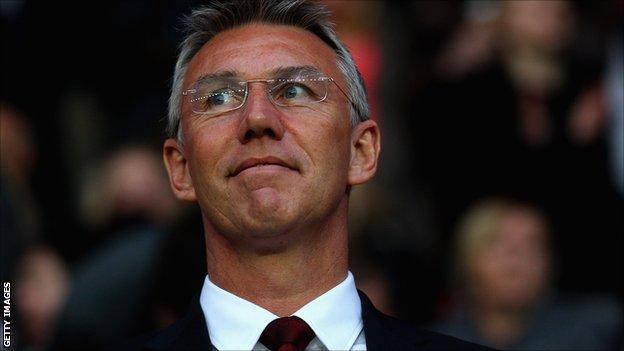 Southampton manager Nigel Adkins says he has total belief in his players for Saturday's Premier League promotion decider against Coventry.
Adkins' side will be promoted if they beat Coventry and will go up regardless if West Ham fail to beat Hull.
"We have 90 minutes to win a game of football and I have got total belief in the players to go and do that," Adkins told BBC Radio Solent.
"We know what we need to do. We need to win a game against Coventry."
Adkins' side have not been out of the top two all season, but missed the opportunity to earn promotion in front of the television cameras last weekend, losing 2-1 at Middlesbrough.
It was their latest defeat on live television and with Saturday's game also featuring on BBC One, Adkins will be hoping they do not slip up again in front of the cameras.
Saints' record on TV does not make pleasant reading for their supporters. The club have won 66% of their league matches that have not been on television this season, but just 20% of those that were.
The Saints' dismal record in televised league games since their relegation from the Premier League in 2005 is played 47, won 11, drawn 12 and lost 24.
They have now been on television 10 times this season, with wins over Leeds their only successes. But Adkins says the record is not on his players' minds.
"The psychology of the week has just been to get ready for the next game which is Coventry at home on Saturday," said Adkins.
"The lads have been in good spirits. We've managed to train on the stadium pitch. There has been a lot of inclement weather and the lads have been able to train well.
"There is a consistency about everything we do all the way through the season. If we can keep that consistency we will achieve what we set out to do."
Adkins says he is relishing the prospect of managing in the Premier League and has urged the club's supporters to roar them to victory on Saturday.
"It's about our focus, what we're good at. We're good at home, we play good football at home, we score a lot of goals at home, we have magnificent support at home.
"We will have 32,000 here at St Mary's and their positivity will drive the players forward to get the three points."
It is a game that could be worth £90m to the club, and Adkins is well aware of the size of the prize.
"Saturday is about what what we do. Sun Tzu - The Art of War - (never underestimate your opposition) and we've got to expect the unexpected from them
"You want to be the best you can be, and that is what we challenge everyone at Southampton to be and we have an opportunity to do that on Saturday," he said.