Manchester City now our main opponents, says Sir Alex Ferguson
Last updated on .From the section Football
Sir Alex Ferguson says Manchester City are Manchester United's "direct opponents now", ahead of their Premier League title-deciding derby on Monday.
City have rapidly improved since Sheikh Mansour's takeover in 2008, and currently sit three points behind league leaders United in the table.
"They are our direct opponents now. Manchester City are up against us to win titles," he said.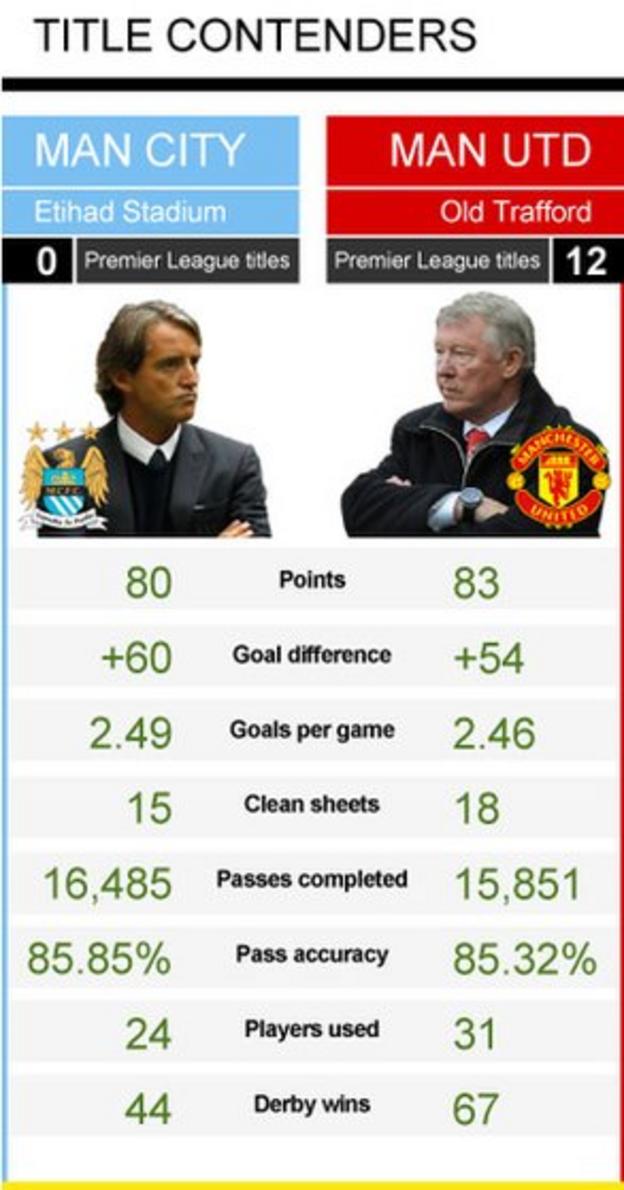 "We have to get used to playing Manchester City in important games."
City have invested hundreds of millions of pounds to bring stars such as Sergio Aguero, Carlos Tevez, David Silva and Yaya Toure to the Etihad.
Mansour's outlay was rewarded last season with the FA Cup, and victory on Monday will see Roberto Mancini's men reach the top of the standings on goal difference with just two games to play.
Ferguson continued: "The support they have means we are going to be playing them in a lot of big games.
"If we are going to be contesting for league titles regularly - and I think we will be doing - it will become just as important as the Liverpool game.
"Maybe not in terms of emotion because the Liverpool-United games are emotional.
"But there is certainly an importance which, at this moment in time, supercedes the Liverpool games."
United's draw with Everton last Sunday allowed City to move within striking distance, but Ferguson was still confident his team remained favourites for the title.
He said: "We know the exact situation we are in here.
"We are in a better position than Manchester City. We can get two results, they can only get one.
"They have to win. We can draw or we can win, which is what we will be trying to do."