Doncaster Rovers budget slashed - Dean Saunders
Last updated on .From the section Football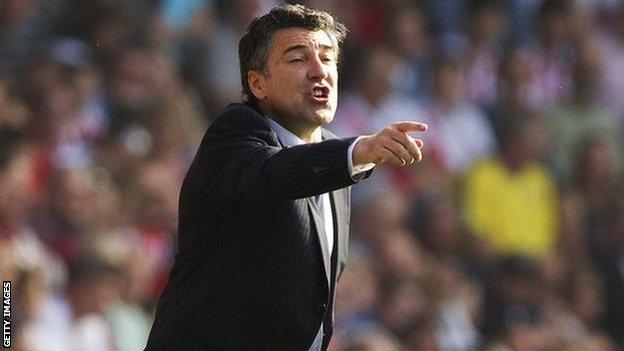 Doncaster Rovers boss Dean Saunders has revealed his playing budget for next season has been heavily cut after their relegation to League One.
Rovers have just 12 players contracted for the 2012-13 campaign but Saunders says unless deals are re-negotiated even that puts him over his limit.
"We're way over the budget with the 12 players we do have," Saunders told BBC Radio Sheffield.
"Just those players put us £1m over, something has got to give."
He added: "To get the budget down that means players leaving but then that means having to sign even more players.
"It's hard to sign 15 or 16 players in one go and expect them all to gel but it's been done.
"I've been in this situation before, I know what's expected and I know what to do. It's going to be tough but fingers crossed things turn out right."
The Welshman also indicated that Senegalese forward El-Hadji Diouf is likely to leave the club.
Diouf joined Rovers in October and had signed an extended contract earlier in the year.
"He's got a clause in his contract that means it only stands if we're in the Championship," he continued.
"I haven't spoken to him yet though so we'll have to see what happens with that."
Rovers will finish bottom of the Championship even if they register a victory against Ipswich on Saturday after a season that has seen them win just eight of 45 games.