Steve Burr wants extra promotion spot in the Conference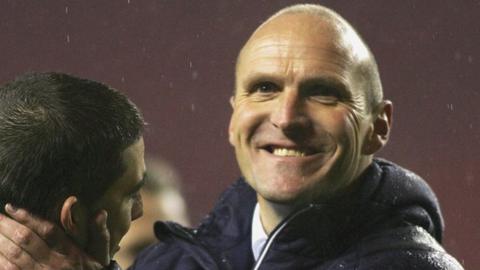 Kidderminster Harriers manager Steve Burr is calling for an increase in promotion places between the Conference and the Football League.
Going into Saturday's final round of Blue Square Bet Premier fixtures, the Harriers are sixth and look favourites to miss out on the play-offs.
They need to win at home to Mansfield and hope Luton slip up at Fleetwood.
But Burr said: "Why we haven't got two teams automatically promoted and then the play-offs, I just don't know."
The Harriers boss told BBC Hereford & Worcester: "For one team to win it, and then one team to go up through the play-offs makes it very difficult.
"I don't think there are any other leagues where that is the case.
"That is the way it is, but I would have thought by now this league would have been sorted into two automatic promotion spots and then the play-offs.
"I think they have been lobbying for it but they seem to be hitting a brick wall year after year."
Despite the damage of last Saturday's defeat at Luton, where victory would have booked them a place, Harriers still have a chance of making the play-offs - but it means two results going their way.
Mansfield, Saturday's visitors to Aggborough, are already in the play-offs and guaranteed to finish in third place.
But Burr's men have no control over the result at the Highbury Stadium, where Luton, resurgent under new boss Paul Buckle, only need to take a point off champions Fleetwood.
And, having also suffered a sixth-placed finish last season, Burr is likely to end up frustrated again and bemoaning the current system.
"There are a lot of clubs at this level that are run in a very professional way," he added. "But there are a few that are letting everybody down with the way they run football clubs.
"Maybe that is what is stopping us at the moment. But I know the Conference board and committee are pushing for the two automatic promotion spots and a play-off place. The quicker it comes, the better.
"The play-offs are exciting and they keep the league alive for you and obviously give you something to play for.
"A few years back, once you were out of the reckoning for the league title, that was it - it was over.
"But it does amaze me this division doesn't have two teams promoted - the champions and runners-up.
"But that's the way it is so we have just got to get on with it for the time being."