Pep Guardiola - what his players and peers say about him
Last updated on .From the section Football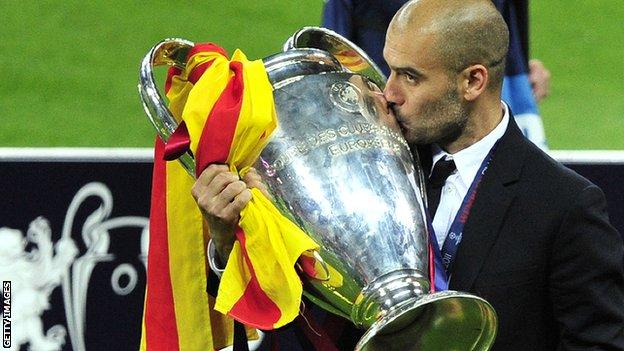 Guardiola in numbers
Since being appointed as manager of Barcelona in 2008, Pep Guardiola has won 13 trophies: two Champions League crowns, three La Liga trophies, one Copa del Rey, three Supercopas, two Uefa Super Cups and two Fifa Club World Cups.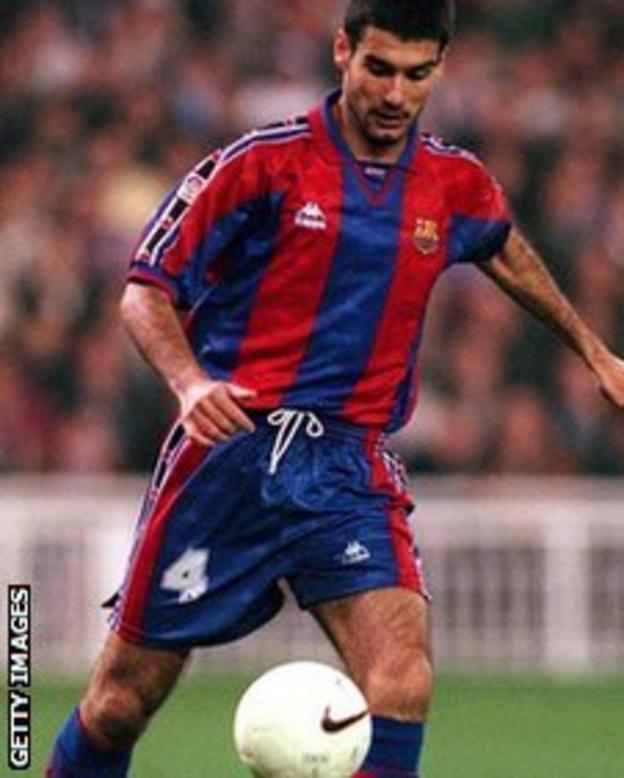 Guardiola was only 37 years old when he won his first Champions League trophy in 2009, becoming the youngest manager to lift the trophy.
Barcelona have gained a reputation as a free-flowing, attacking side under Guardiola. This season they have scored 170 goals in all competitions.
Guardiola is also a Barcelona legend from his playing days. He won 17 medals during his career, including six La Liga titles and an Olympic gold with Spain.
The Catalan has won 76.4% of his league games while in charge at the Nou Camp, compared to predecessor Frank Rijkaard's record of 58.9%.
The former central midfielder took charge of 15 "El Clasicos" against rivals Real Madrid as Barcelona manager, winning nine of them.
Barcelona have scored 363 points in 148 league games under the 41-year-old, nine more than Real Madrid (354) and over 100 more than any other side.
Of all the clubs Guardiola has faced in all competitions as Barca manager, he has only failed to register a single victory against one club - Chelsea - failing to beat them in four attempts.
What they said about him
"I want to thank Pep with all my heart for everything he has given me personally and professionally." - Lionel Messi, on his Facebook page.
"A Barca myth, the last Mohican of the Cruyff era. We'll never again have a coach capable of winning six titles in one year, which is practically impossible." - former Barcelona player Hristo Stoichkov.
"Guardiola is the best possible coach for Barcelona." - Real Madrid coach Jose Mourinho.
"Pep is Barca. He lives for this club. That is what differentiates him from many coaches." - Barcelona president Sandro Rosell.
"Pep immediately transmitted an enormous amount of pride in our work, ambition and hunger. He won our confidence from the first day because we could see that things were being done correctly and then when results started to flow the confidence grew with them." - Barcelona striker Lionel Messi.
"He's one of the few intellectuals I have come across in a dressing room, intellectual in the sense he thinks about a lot of things. A lot about football, of course, but also about literature and other cultural things." - Former England coach Fabio Capello.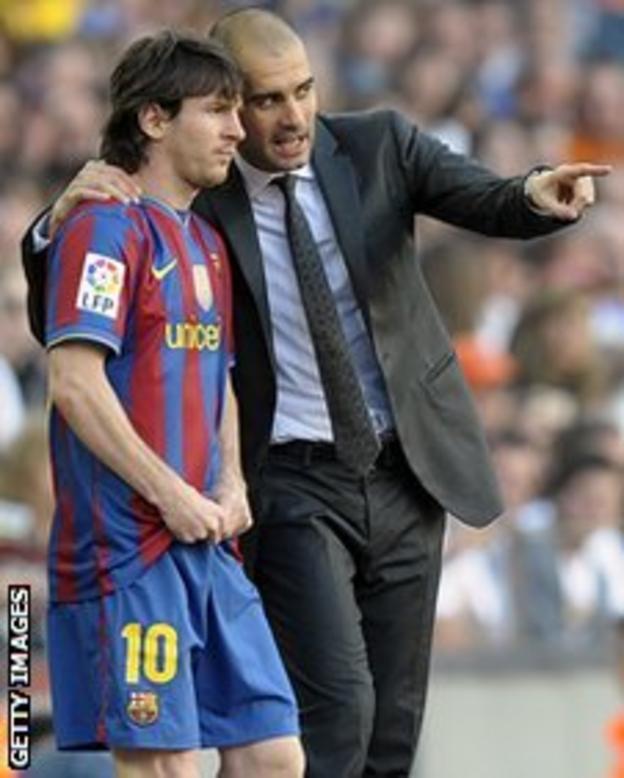 "He doesn't give himself a minute's rest. He's pig-headed, football is his everything and he puts so much intensity into everything. Pep's almost got a sickness for football." - Barcelona midfielder Xavi.
"Pep Guardiola was a very intelligent player - I always felt that very strongly when I was on the pitch with him. He knew how to move and was very aware of the movement of others." - Former Italy defender Franco Baresi.
"Barca are the best team in the world. I already knew [that] when I got there, and when I left. Guardiola is a fantastic trainer, the problems between us were different." - Former Barcelona striker Zlatan Ibrahimovic.
"He has shown that a young tactician can be successful at the highest level. It's my goal to become as successful at Ajax." - Ajax manager and former Barcelona defender Frank de Boer.
"Pep is the secret weapon of this group. Leaving aside the sheer quality of players, he is a very special talent, along with the rest of his coaching staff. Pep Guardiola is one of the best secrets and the most important member of the team." - Barcelona goalkeeper Victor Valdes.
"In my time as manager, it's the best team I've faced." - Manchester United boss Sir Alex Ferguson, after Guardiola's Barcelona team beat United in the 2011 Champions League final.
"What a coach, what a manager. He's a great guy, a role model with many years as a coach ahead of him. I am not sure anyone can replicate what he has done at Barcelona." - Chelsea interim manager Roberto di Matteo, whose team beat Barcelona in the Champions League semi-finals.
"The philosophy of Barcelona has to be bigger than winning or losing a championship. Guardiola is one of the representatives of this philosophy and made this philosophy triumph so I would have loved him, even going through a disappointing year, to stay and come back and insist with his philosophy. That would be interesting." - Arsenal manager Arsene Wenger.