Port Vale boss Micky Adams courted by Keith Ryder
Last updated on .From the section Football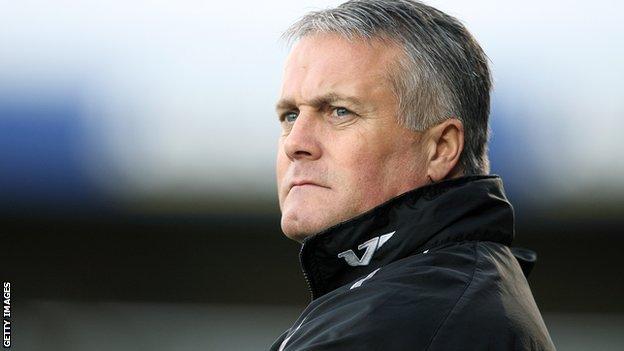 Port Vale manager Micky Adams says he is still at the 'courting' stage with prospective owner Keith Ryder as they plot a title bid next year.
"We're just holding hands at the minute," joked Adams to BBC Stoke & Staffordshire. "And he's saying all the right things to me.
"We've had a little peck on the cheek and we've not had a row yet.
"We're still very much in love. And we're both preparing for a challenge on the Second Division title next season."
After hearing Wednesday's news that Ryder's planned £1.4m takeover should go through by June, Adams confessed: "It would be nice just to concentrate on the football side of things now.
"We've still got two games to prepare for this season. But I've already been working on a pre-season programme. That's in place.
"We've got a few local friendlies lined up, we'll have Coventry City and Tranmere Rovers at Vale Park and I'm hoping for a week in Ireland, although that's not finalised yet."
Adams also has the issue of agreeing new deals with the majority of his current squad.
Midfielder Doug Loft and defenders Gareth Owen and Adam Yates will be the only three players still in contract after 30 June, although offers have been made to youngsters Ryan Lloyd and Joe Davis.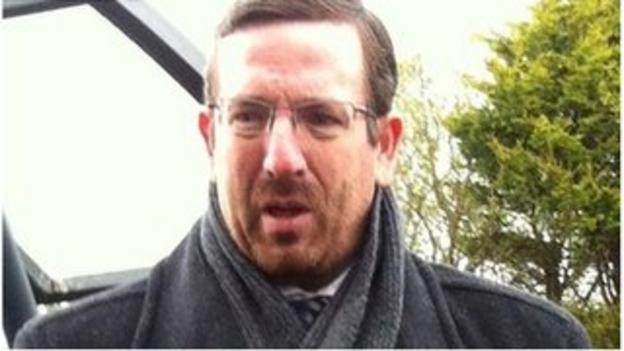 "I'm talking to players' agents as we speak," added Adams. "Although there's no real progress on that front.
"I've not actually spoken to any of the players yet, but I've spoken to every agent.
"I've just had to remind them that we're not talking about Ronaldo and Messi.
"The players and their agents get the opportunity to get the best possible deal that they can for their clients.
"But we're just sounding each other out. Other than Lloyd and Davis, we've got no formal offers on the table."