No Swansea regrets says Wolves goalkeeper Dorus de Vries
Last updated on .From the section Football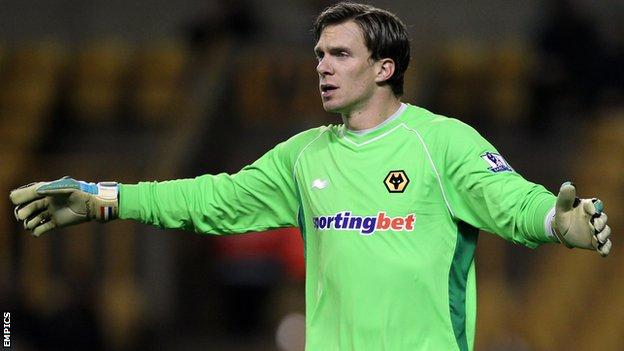 Goalkeeper Dorus de Vries insists he has no regrets about leaving Swansea for Wolves last summer despite the Molineux side's relegation from the Premier League.
Despite relegation and a lack of first-team opportunities, De Vries says he has no regrets about leaving Swansea.
"It was the right choice despite the outcome," said De Vries.
"I get a lot of questions by people asking me did I make the right choice. Looking back there's only one answer to that, it was the right choice."
Swansea have enjoyed a memorable debut season in the Premier League and a point against Wolves at the Liberty Stadium on Saturday would secure their top-flight status.
De Vries has been given his chance late on in Wolverhampton's disappointing season which saw them relegated after a 2-0 home defeat against Manchester City.
The 31-year-old made his Premier League debut against City stepping in after Wayne Hennessey was ruled out for six months with a torn cruciate knee ligament.
Although sympathetic to the Welshman's plight, De Vries is pleased to have finally been given his opportunity in the Premier League.
"I feel gutted for him personally that he got a big injury like that," he said.
"He had a good season and it's unfortunate for him to finish the season like that.
"But I'm happy to play now and that's what I've worked for [the] whole season. I was waiting for the opportunity and finally it came last week."
The Dutchman spent four seasons with Swansea City after joining the club on a free transfer from Dunfermline Athletic in 2007.
During his time in south Wales De Vries was promoted twice with the Swans, culminating with last season's win over Reading in the Championship play-off final.
De Vries opted to leave Swansea for Wolves in June 2011 but says he is pleased to have seen the progression his former club have made during their debut season in the Premier League.
"It's going to be an interesting day and a day I'm looking forward to," he said. "I had great years down there, great memories.
"I'm really happy for the guys down there. They deserve [to be] where they are at the moment.
"In the beginning they were fighting for the results but later on they've done well. Players have stepped up a level and they've kicked on as well.
"They've had a great season but I hope on the day itself we can have a good result."