SPL board member Stephen Thompson calls for meeting calm

By Jim Spence
BBC Scotland
Last updated on .From the section Football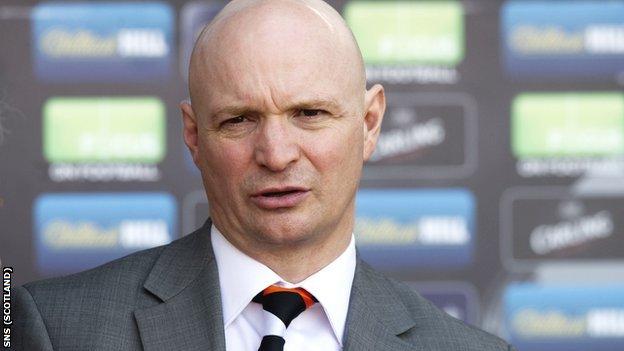 Scottish Premier League board member Stephen Thompson believes recent events in Scottish football may produce a more circumspect meeting of clubs on Monday.
The Dundee United chairman called the disclosure of the identity of the Scottish FA's panel members who ruled on Rangers and were then threatened "a very unfortunate turn of events".
"I think people will be a bit more reflective," he told BBC Scotland.
"I'd like to think everyone will remain calm."
Pending an appeal, Rangers have been banned from signing players of 18 years and over for one year and have been fined £160,000 for breaches of rules relating, in the main, to events since Craig Whyte bought the club almost a year ago.
Raith Rovers director Eric Drysdale was one of the three members of the independent judicial panel who decided on the club's punishment and whose name was leaked.
He has subsequently been advised by police about his safety.
Drysdale and the scores of other potential panel members, who come from a variety of professions, had always assumed that their anonymity would be guaranteed, a system voted for by 93 clubs.
"It makes it very difficult for everyone involved in the game to make rational decisions when some of things I've read in the newspapers are going on," said Thompson.
"I think one or two people are pondering their futures within the game.
"We're in the game for the sake of Scottish football; it's voluntary for most people.
"We all signed up for the SFA and SPL articles. It's a shame that things have got to this stage.
"Everyone has strong feelings about things, but everyone needs to reflect on everything that has happened in the last few days and the last number of weeks."
There is much to consider for the 12 SPL member clubs at their Hampden gathering.
All clubs except Celtic and Rangers are in favour of changing the voting structure and would like to see a fairer distribution of revenue between the clubs.
The 10 non-Old Firm clubs want votes on major changes to move from its existing 11-1 margin to a 9-3 ratio.
That, they argue, will mean that the Old Firm cannot block change by voting together on issues.
Rangers' administrators and Celtic chief executive Peter Lawwell have indicated that they are against the proposals, and Lawwell said earlier meetings of the 10 clubs, where Celtic and Rangers were not invited, were "disrespectful".
"They talk of a more competitive league," he said.
"Well, the Icelandic and Welsh leagues are competitive but it is the presence of the Old Firm which makes Scottish football different."
Also on the agenda for the meeting are the SPL's financial fair play proposals, which, among other things, would increase punishments for clubs who entered administration and cut points and cash from clubs which re-enter the league as a newco.
SPL chairman Ralph Topping claimed earlier this month that two potential title sponsors have pulled out because of recent bad publicity.
Thompson said of the meeting: "I don't know what will happen and it would be wrong for me to judge that.
"I know there are a lot of discussions taking place behind the scenes and we'll see what happens on Monday."