Pep Guardiola distances himself from Chelsea manager vacancy
Last updated on .From the section Football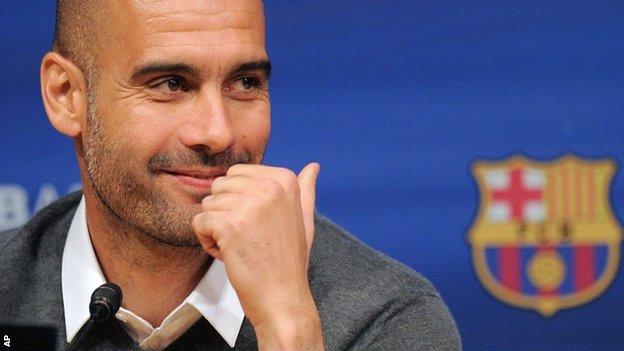 Pep Guardiola has distanced himself from the Chelsea manager's job after at the end of the season.
The 41-year-old has always been Roman Abramovich's top choice to replace Andre Villas-Boas on permanent basis.
But with Guardiola set to take a sabbatical, interim manager Roberto di Matteo is the leading candidate.
Guardiola said: "I'm not interested in coaching now. There are more things than football."
Chelsea are still hopeful of persuading the Catalan to postpone his break.
Abramovich has wanted to replicate Barcelona's playing style and youth development for several years.
He had meetings with Txiki Begiristain, Barcelona's former director of football, about taking up a similar role at Stamford Bridge, only to see his offer rejected.
Guardiola denied ever having had similar meetings with Abramovich. "I have never met with Roman Abramovich nor any Chelsea representative, I have always respected this club." Guardiola said on Friday.
"I will rest and maybe one day I will say, now let's train. Maybe not. Let's see where life takes me. My desire is to do other things.
"I don't have anything to prove. I'm not interested in proving myself abroad and will go away from football at the moment. I have nothing left and need to recharge my batteries.
"I have to recover and the only way I can do that is by distancing myself."
Guardiola, who has won 13 of the 16 trophies he has contested since taking charge at the Nou Camp in 2008, will be replaced by his assistant Tito Vilanova.
Di Matteo, Chelsea's interim manager, paid tribute to Guardiola on Friday but warned against attempting to replicate what he had created at Barcelona.
''What a coach, what a manager. He's a great guy, a role model with many years as a coach ahead of him.
"He's had such tremendous success and has decided what is probably best for himself, his career and probably his family.
"I'm not sure anyone else can replicate [what he has achieved]. History tells us it's difficult to replicate the culture of a club into a different club.
"He [Guardiola] might be the first one to do it. But if you look back at history, it seems as if it's been different."