Rangers: Ticketus pull out of Blue Knights' takeover bid
Last updated on .From the section Football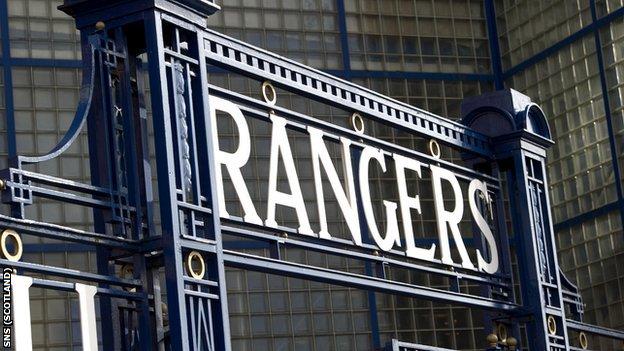 Ticketus have withdrawn their commitment to funding a takeover bid for Rangers.
The firm, who funded Craig Whyte's takeover of the Ibrox club last year, had been part of Paul Murray's attempts to take control of Rangers.
But Ticketus have pulled out due to the uncertainty over the club's future in the wake of a 12-month transfer ban.
Meanwhile, Murray is "confident" he can finalise a deal with Brian Kennedy to form a joint bid for Rangers.
Kennedy had an initial bid rejected and was told his most recent verbal offer was not acceptable by the club's administrators while Murray's Blue Knights consortium and rival bidder American Bill Miller have been trying to achieve preferred bidder status.
Murray told BBC Scotland he and Kennedy are close to forming a joint bid, which could be submitted on Friday.
"We're proposing to make an offer with very few conditions and if that's accepted by the administrators, we'd hope to push it through very quickly," said Murray.
A Scottish FA judicial panel this week handed Rangers a year-long transfer embargo and several fines relating to charges of rule breaches, although the club are in the process of appealing the verdict.
It is believed the ban on registering players over the age of 18 and emerging details about player contracts have made the bid proposition less attractive to Ticketus, along with potential changes to Scottish Premier League rules.
The squad agreed temporary wage cuts and release clauses in March, the club having appointed Duff & Phelps as administrators in February.
Figures released by Duff & Phelps earlier this month listed Ticketus as one of the club's creditors to the tune of £26.7m after they helped fund Whyte's takeover in return for future season ticket revenues.
Murray had always thought it best to keep Ticketus onside as the Blue Knights worked towards a bid that included offering a company voluntary arrangement to creditors.
And he still believes Ticketus can play a pivotal role in any proposed transfer of Whyte's 85% shareholding in the club, with the firm believing they have guarantees against assets owned by Whyte.
A Ticketus spokesman said: "Ticketus is no longer able to play a role in the [Blue Knights] consortium's bid for The Rangers Football Club plc at this stage.
"Ticketus first and foremost has a duty to its investors to protect the investment that it currently has in the club. Our willingness to work with all interested bidders, and to try and be part of a solution for the club, was undertaken with the objective to agree terms that would satisfy both our investors' needs as well as being in the interests of the club, its fans and its creditors.
"Regrettably over the course of this week it became impossible to reconcile these interests with the proposals put forward by the Blue Knights as the terms of a deal became clearer.
"We do not wish to attach any blame to the failure of these talks as, while there have been frustrations on all sides at times, we believe all parties have been acting in good faith to agree terms.
"Paul Murray and the Blue Knights have the interests of the club at heart and we wish them well as they continue to try to secure the best outcome for the club and its fans. We hope that a swift resolution can be found for the club that will enable it to continue to play a leading role in Scottish football."