Why Valencia and Silva hold key to Manchester's title showdown

Last updated on .From the section Football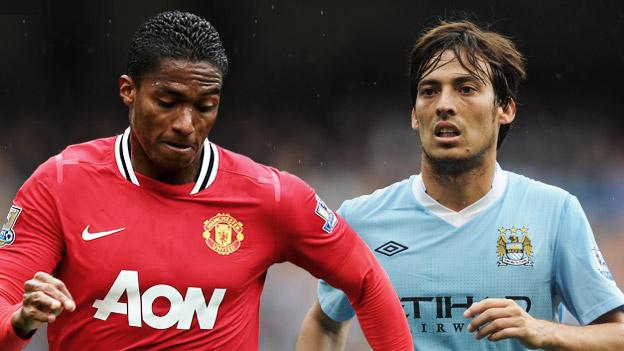 Who will provide the magic to decide Monday's all-Manchester title showdown? Take your pick.
Between them, City and United have scored 173 league goals this season and we have seen enough of Wayne Rooney, Sergio Aguero, Javier Hernandez and Carlos Tevez to know they are all capable of securing the points at Etihad Stadium, and potentially the Premier League trophy too.
But this is a match-up that appears even more mouthwatering when you consider the men providing the ammunition for those strikers are not only fit, but firing on all cylinders.
City playmaker David Silva and United winger Antonio Valencia have had a huge influence on their sides' seasons so far, with City and United's fortunes and tactics fluctuating with each player's form and fitness.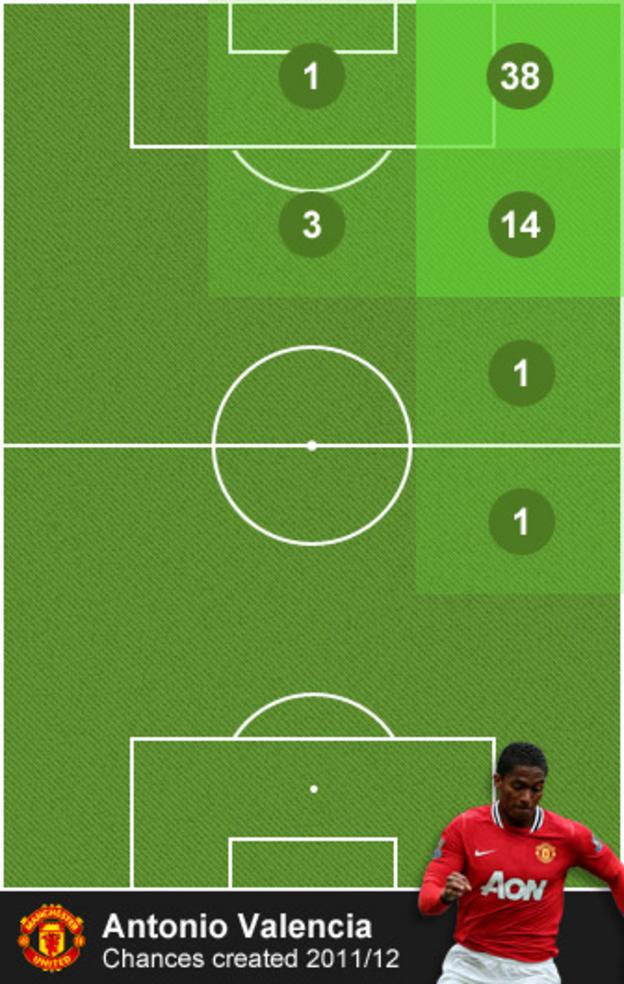 Roberto Mancini's men lost their way after Christmas at the same time Silva's level dipped but the Blues have returned to their earlier free-scoring ways now that the Spanish star, so often the link between midfield and attack, is back at the top of his game.
And, while Paul Scholes's shock return to the United side in January might appear the catalyst for the run that took them to the top of the table, it was Valencia's contribution down the right flank that won many of those matches.
After an ankle injury restricted him in the early months of the season, Valencia burst into life when he set up two goals in United's 4-1 win over Wolves on 10 December. It was only his third league start of the campaign and, save for a brief lay-off with a hamstring problem in March, he has not looked back.
"He gives United so many options. The alternative of natural width is always a good one but when it is width with genuine pace and crossing ability, it is even better," said Match of the Day's Alan Hansen.
"He has produced pivotal moments. I can recall how he went past Andrey Arshavin to set up Danny Welbeck's winner at Arsenal and of course he broke the deadlock late on with a brilliant strike at Blackburn.
"So you have a player who gives you width, pace, crossing - and, crucially, consistency."
Valencia has been so good that United often direct all their attacks through him.
Almost twice as many crosses have come from the right as from the left since he began playing regularly on 10 December.
Hugging that touchline, he has created 18% of his side's chances in the same four-month period with a total of 54 - more than all his team-mates other than Nani have managed during the whole season.
"Valencia has been fantastic," former United midfielder Nicky Butt told BBC Sport.
"It's unfortunate he has had injuries but when he has come back in he has been brilliant. I think he's been one of our better players this season, if not the best."
| Utd in the Premier League 2011-12 | Up to 9 December | 10 December to now |
| --- | --- | --- |
| Games | 14 | 21 |
| Crosses attempted | 256 | 494 |
| Total crosses (left) | 133 | 178 |
| Total crosses (right) | 123 | 316 |
| % of crosses from left | 52% | 36% |
| % of crosses from right | 48% | 64% |
Valencia has benefited from Scholes' ability to ping diagonal passes into his his path but, just as importantly, he has made the most of the chances he has been given.
"If you are Scholes you love playing with him because you can almost close your eyes and know where he will be," explained BBC football pundit Mark Lawrenson.
"I think he is the best right-sided player in the country and he just holds that position all the time. He is strong as an ox and you don't knock him off the ball. And he is quick and direct and he doesn't waste many balls. He's not like an Aaron Lennon who gets in some great positions but does not do enough with the final ball.
"City have to play Gael Clichy against him because I don't think Aleksandar Kolarov is quick enough. It will be hard for Clichy but at least he will battle him for pace."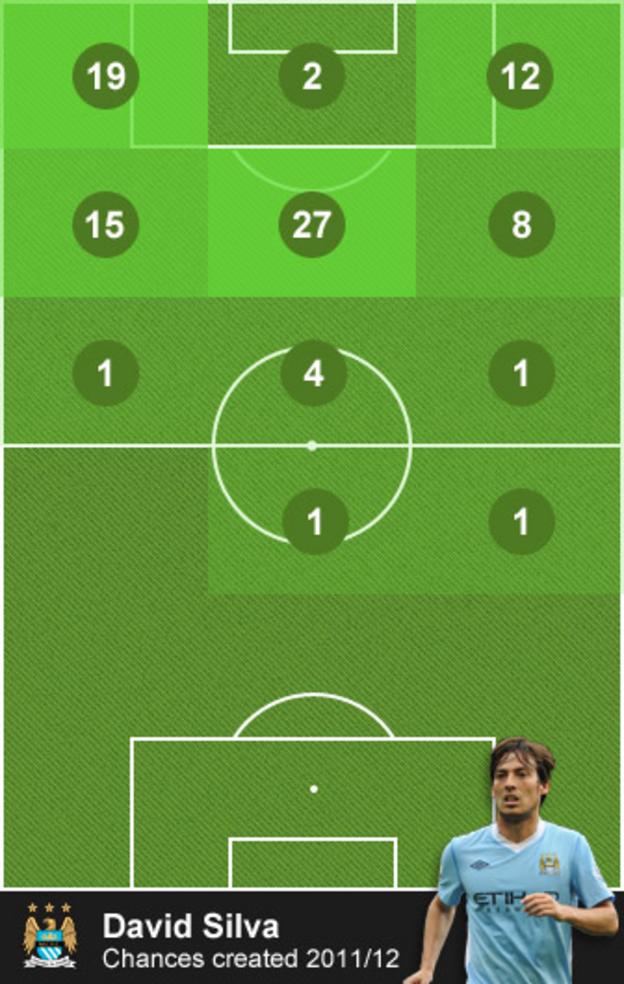 At the other end of the pitch, Silva will be covering a lot more ground as he tries to find holes in United's defence. The Spaniard might operate primarily on the left but he pretty much floats where he wants.
Until recently, his season was heading in the opposite direction to Valencia, who found his va-va-voom around the same time Silva seemed to lose his sparkle.
Silva rarely gives the ball away - his pass-completion rate has stayed around 80% all season - but he lost his touch in front of goal, going 13 league games or almost four months from the middle of December without scoring a league goal before a beautifully dinked finish against West Brom.
And there were other ways the 26-year-old's end-product diminished too. His dribble completion rate halved from 60% to 30% while his wait between shots on target almost doubled.
City's goals also dried up and, after scoring 48 times in the 14 league games before their first defeat by Chelsea on 12 December, they managed just 27 in the next 14.
"It was no coincidence that when he started to look a little tired the team's form also dipped," former City defender Andy Hinchcliffe told BBC Sport.
"But the demands made on him this season have been fantastic and for the most part he has coped superbly. He has carried the weight creatively and his all-round game has made such a contribution to how well City have done in the Premier League.
"He was definitely starting to feel the effects a month or two ago but since then he has sprung back into life and City have as well."
| David Silva in the Premier League 2011-12 | Up until 12 December | 13 December to 31 March | 1 April to now |
| --- | --- | --- | --- |
| Mins per shot on target | 73 | 124.7 | 72.3 |
| Mins per chance created | 26.7 | 32 | 19.7 |
| Pass completion | 88.37% | 87.26% | 78.42% |
| Dribble completion | 64.52% | 31.25% | 80% |
Silva's shine has returned since he missed City's Easter Sunday defeat by Arsenal, which left them eight points adrift of United at the top.
In the three games since, City have scored 12 goals, with the Spaniard scoring one, making one - and creating 11 chances.
It probably helps that Samir Nasri has begun to look like the player City paid Arsenal £24m for last summer. In front of him, too, Tevez and Aguero have formed the effective strikeforce City were missing earlier in 2012.
"Silva is definitely on the same wavelength as those two," Lawrenson explained. "And City's chances on Monday are greatly improved by the fact he has come back into form.
"He had been like a ghost since the turn of the year and it looks like it has been a long season for him. But he is back to his best now."
Just as Valencia's effectiveness will be determined by his battle with Clichy, how well Silva operates on Saturday will depend on how United shackle him, with Michael Carrick likely to get that job.
"Individuals such as Silva will be very important on Monday but as always against United it must be a complete team effort," Hinchcliffe added.
"What I will say though is that Silva could be the key man on Monday and City's fans will hope he is."