Morecambe likely to reduce squad size - Jim Bentley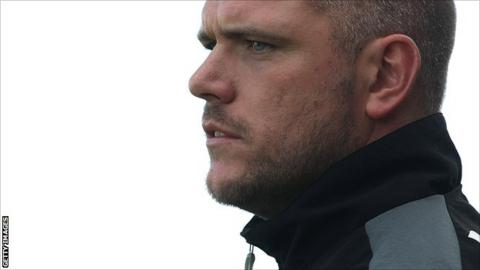 Jim Bentley has said finances at the club may force him to reduce the size of his Morecambe squad in the summer.
"It all depends on the budget," manager Bentley, who is starting to rebuild his squad, told BBC Radio Lancashire.
"You could be fighting against the bigger clubs in this division to get the players that you want.
"When you're getting crowds of 1,400 at home, it hits the club in the pocket. I'm not blessed where I can go and get a squad of 25 senior professionals."
He added: "That's why I wanted to register my interest early to see if we can get anything tied up before those other clubs come sniffing around.
"We might have to take players out of non-league and give them a chance, or young lads from League One who have got a point to prove.
"We're in a strong league with clubs that have got a lot of financial clout. It's important that what we have, we try and improve."
Morecambe are comfortably in mid-table in League Two but, after a bright start to the campaign, have slipped out of contention for a play-off place in the second half of the season.
While he accepts he will have to work with limited resources, Bentley went on to say that the club's future should not be put at stake in pursuit of success.
"We're in a position where the club are financially sound," said the 35-year-old, who is approaching the end of his first season in charge.
"You've only got to look at Port Vale, Plymouth, Portsmouth and even Rangers to see what can go on.
"Our club aren't threatened with that, but if we start ploughing more money into the playing side of things and crowds don't increase, that could be around the corner.
"I'd love to go out and get players, but it's not financially possible."