Man City's attack versus Man Utd's defence is key in derby

By Alan Hansen
Football Analyst
Last updated on .From the section Football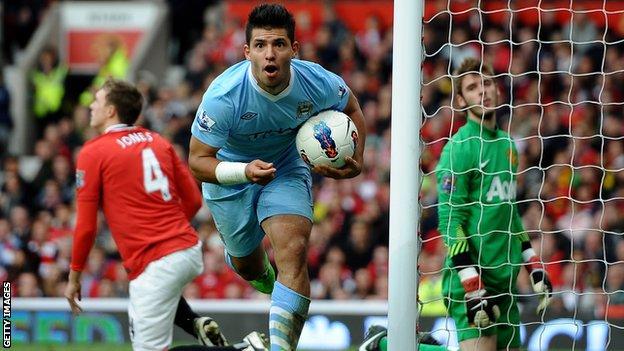 Manchester City's meeting with Manchester United at Etihad Stadium on Monday is the hottest ticket in town - with the Premier League title as the potential prize.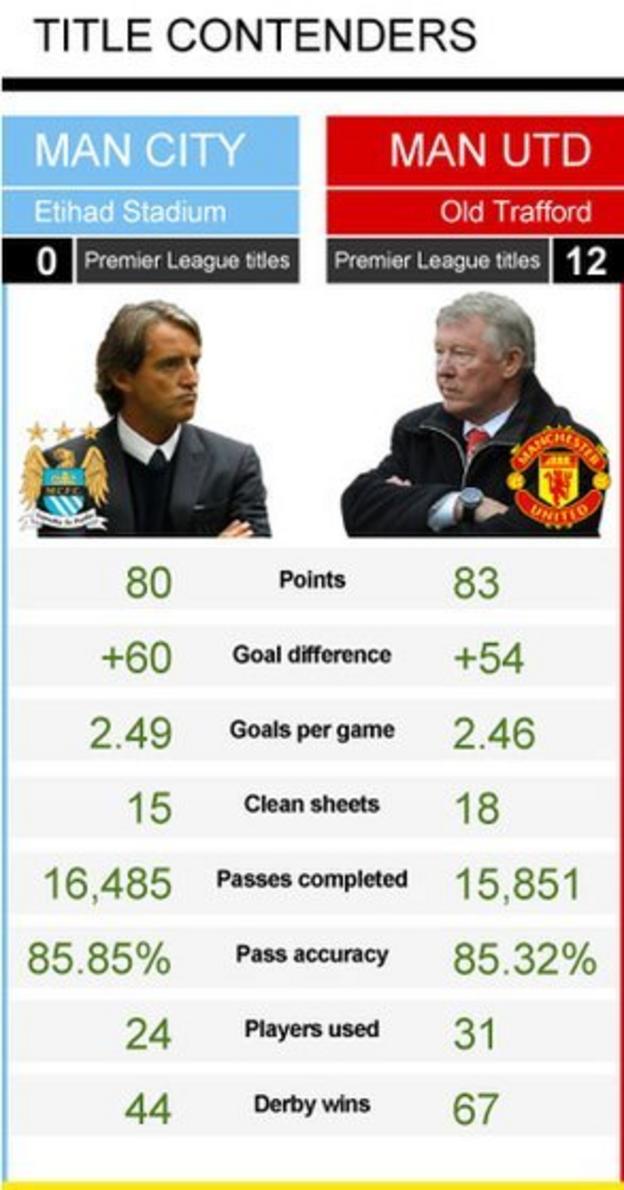 History tells us it is highly unusual for the top two to meet so late in the season with so much riding on the outcome but this has been a highly unusual season.
Sir Alex Ferguson wants that 20th title desperately by keeping City at bay, while others may see Roberto Mancini's team going on to dominate domestically for years to come if they can get that first Premier League under their belt. Has there ever been a bigger Premier League game than this?
In reality City should have had the title sewn up weeks ago in the manner they were playing and the results they were getting. And yet a stumbling run of form away from home gave United a lifeline they were only too grateful to accept to go into an eight-point lead only a couple of weeks ago.
The biggest surprise of all is that Ferguson's side - so expert in closing out these deals in the past - have handed the lifeline back to them by losing at Wigan Athletic, then giving up a two-goal lead in the closing minutes against Everton at Old Trafford last Sunday.
City may have momentum after three wins against West Bromwich Albion,Norwich City and Wolves but I would still rather be in United's position going into this game.
Ferguson's side still have a three-point advantage, so a draw would satisfy them a lot more than City and, unlike their closest rivals, they do not have to go to Newcastle United, a trip not too many would approach with confidence at the moment.
Of course, this being the sort of season it is, you would not bet against further twists and turns even in the final two games. It seems it is destined to go right to the end and United's trip to Sunderland on the last day is no easy job.
Mancini has said publicly that the title race has been over ever since City lost at Arsenal - you suspect he will be saying something a lot different in the privacy of the dressing room.
City will be sitting in there before the game looking at each other and thinking: "If we play well we will win this." This is always a very comforting feeling to have.
United, though, are old hands at this and have experience and quality when you look at people like Paul Scholes and Wayne Rooney, who have been there and done it many times before.
Since that defeat at Emirates Stadium, City have played with renewed freedom, especially in scoring six at Norwich City after the Canaries came off the back of a superb win at Tottenham.
Is this because they felt they had nothing more to lose or because they felt the pressure was off as they had finally lost the title race? No-one will know for sure but the pressure is back on them now because suddenly the prize is in sight again.
On recent evidence the key element will be how United's defence copes with City's attack. City have hit that rich vein of scoring form again while United defended abysmally against Everton - although it should be stressed their performances at the back over the recent period have been very good.
And then we come to the Carlos Tevez factor. For so long on the outside looking in at City, with all the acrimony that appeared to accompany that, he is back and doing what he does best.
I never bought into all the talk that he would never play for the club again after it was claimed he refused to warm up as a substitute in the Champions League defeat against Bayern Munich in Germany.
As long as a player is of use to a football club, and is there at the club, there is always the possibility he will play again - especially if he is of Tevez's quality. And so it has proved, with his performances giving them extra impetus in these crucial final weeks of the season.
When you see him during games he has a great work ethic, sets a great example, and can influence important games. Players will look at him and think that, if he is prepared to put in so much work, they should as well. It sets this good example and makes it much easier to reintegrate someone after a period of disharmony than if they are selfish and not bothered about their team-mates.
Tevez's game is usually raised against his old club anyway, but such is the importance of the match on Monday, he will be vital for City if they are to get the win they need.
I would rather be in United's position than City - but what an opportunity for Mancini's men after their Premier League title race looked to be over a couple of weeks ago.
Alan Hansen was talking to BBC Sport's chief football writer Phil McNulty.