Rangers: Miller's bid worth more than Blue Knights & Kennedy's

By Chris McLaughlin
Senior Football Reporter, BBC Scotland
Last updated on .From the section Football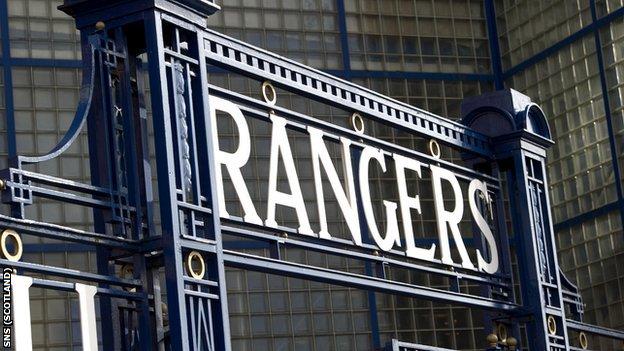 BBC Scotland understands that Bill Miller's bid for Rangers is worth significantly more than the Blue Knights and Brian Kennedy's.
The Blue Knights' Paul Murray told BBC Scotland on Friday evening that he believes his joint bid with Sale Sharks owner Kennedy outbids the American's.
Both bids depend on taking the club's bond holders' debt, around £7m, out of a Company Voluntary Arrangement.
But it is thought the Knights' bid uses that figure as part of its offer.
Adminstrators Duff & Phelps said "neither bid involves liquidation of the football club".
And they added that there were "significant differences between the two offers in terms of a prospective return to creditors and approach to future funding and these have to be evaluated".
Rangers sold thousands of debentures to fund the construction of the Club Deck at Ibrox Stadium in the early 1990s.
Supporters paid sums of about £1,100 to £1,600, which guaranteed the right to take out a season ticket on that seat and offered them some extra benefits.
Ticketus, who funded Whyte's takeover of the Ibrox club last year and had been part of the Blue Knights group, earlier in the day withdrew their commitment to funding a takeover bid.
The London firm was put off by the uncertainty over the club's future in the wake of a 12-month transfer ban relating to charges of Scottish FA rule breaches, a ruling Rangers are expected to appeal, and potential changes to Scottish Premier League rules.
Murray and Kennedy negotiated a partnership and a statement on behalf of the duo read: "This offer we consider to be substantial.
"[The offer] is conditional on a CVA being approved by the creditors, and Mr [Craig] Whyte's shares being acquired."
Murray and Kennedy added: "We hope this is accepted so that we may proceed with due diligence forthwith and make a start to the task of re-building Rangers Football Club of 1872. "
Kennedy had an initial bid rejected and was told his most recent verbal offer was not acceptable by the club's administrators while the Blue Knights and Miller have been trying to achieve preferred bidder status.
Miller's complicated bid, which was made before the SFA sanctions, came with strings attached. He wanted guarantees that Scottish football's authorities would not punish the club going into next season.
The administrators' statement said: "Since then, Mr Miller's bid team have worked to develop a structure which enables the wishes of creditors to be taken into account whilst ensuring that the Club is taken forward well-capitalised and the requirements of the footballing authorities are met.
"Mr Miller hopes a solution to all regulatory issues can be found and his team has been in constructive discussions with all relevant parties this week."
Speaking on BBC Radio Scotland's Sportsound, Murray said: "I've been talking to Brian every day for the last three months. We have built up a good relationship.
"I respected his decision to bid on his own but it was very clear that he was very much a kindred spirit in terms of wanting to help the club
"He also has a lot of experience in owning sporting clubs and I think that experience plus his business acumen is a great combination.
"That combination with the rest of the guys is a powerful cocktail."
Miller and the Blue Knights/Kennedy must now wait to hear from Duff & Phelps which of them has been given the nod to proceed to a period of due diligence.
"Time is of the essence. It really is now pretty critical," added Murray, a former Rangers director.
"We are running up against unbelievable time pressures. It's getting to the point where it is a real issue."
Asked about the value of his joint bid compared to truck tycoon Miller's bid of £11.2m, Murray said: "If what Bill Miller has said is accurate, we believe it is worth more than that.
"This is more than just about money; I think this is about philosophy as well.
"We have been very clear that a CVA is the only thing the supporters want.
"Speaking as a supporter, I do not want the club's timeline has been broken."
Murray's bid is not only conditional on a CVA being approved; it depends on owner Craig Whyte's 85% shareholding being acquired, either by Ticketus, who are owed almost £27m, or the administrators.
"On the assumption that 75% of the value of those creditors vote for it, then the CVA becomes effective," said Murray.
"There is then a 28 day cooling-off period where people can request more information.
"Ticketus have a lot of financial leverage over Craig Whyte.
"I expect them to be positive on the CVA and I expect them to deliver the shares as well."