Give Walsall some breaks - Macken
Last updated on .From the section Football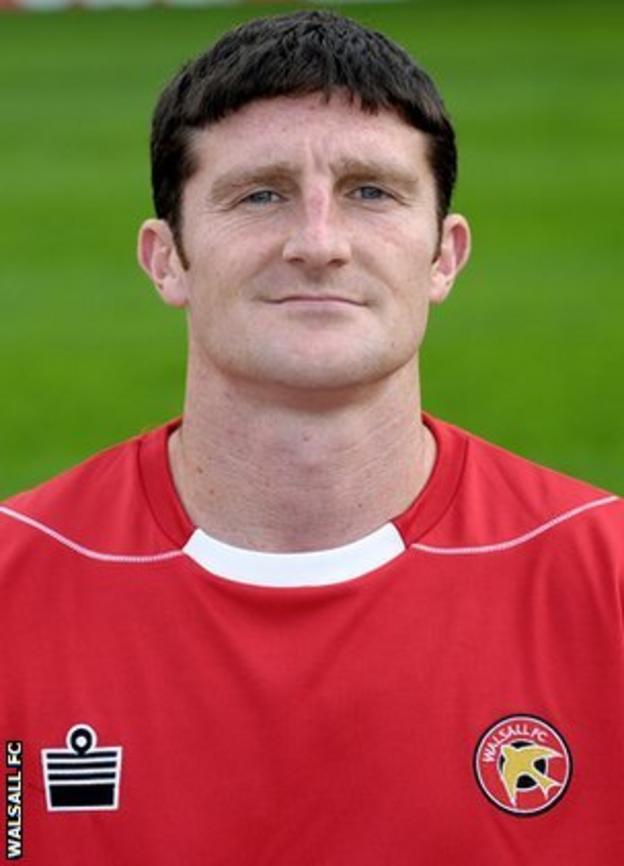 Walsall go into their final League One home game of the season against play-off hopefuls Huddersfield on Saturday knowing that victory will effectively be enough to avoid relegation.
But Saddlers striker Jon Macken points out that they will need a few breaks when it comes to refereeing decisions.
"We've had officials who aren't favourable to us," Macken told BBC WM.
"Crucially for us, they're making terrible decisions at the moment that are costing us dearly."
After an encouraging run of one defeat in 12 games, Walsall have lost their last three matches - and all have hinged on key decisions that went against them.
Charlton Athletic's winner at The Valley three weeks ago came from a disputed free-kick.
Then, the following Saturday, the Saddlers went down to another 1-0 defeat at home to Tranmere Rovers in a game also decided by a controversial free-kick.
Referee Mark Brown's failure to spot an elbow on home skipper Andy Butler by Andy Robinson, just before the Tranmere player was brought down by Butler, led to the match official calling Walsall boss Dean Smith to apologise.
And it it was all capped by last week's two big bones of contention at Exeter.
First, Florent Cuvelier's long-range shot, which span back off both posts and appeared to cross the line in the process, was chalked off. Then, at 2-1 up, Walsall defender Manny Smith looked very unfortunate to be sent off prior to his team going down 4-2.
"It was a poor result against Exeter," said Macken. "But everybody has to see that the decisions cost us the game.
"Everyone in the ground saw a goal go in that the referee and the linesman didn't see.
"The one thing we can take from last week is 'Don't rely on the officials to make decisions correct'."
Walsall boss Smith added: "We can at least take something from our performance last week when we had 10 men on the pitch.
"I stand by my comments after the game and we've had a debrief, but that's now been put to bed."
And, although up against a good Huddersfield side already booked for the League One play-offs, Smith just wants to put last week's frustration behind them and concentrate on earning the three points that would make them safe - barring Wycombe winning both their last two games by a hatful.
"One more win would take Exeter and Chesterfield out of the equation," he told BBC WM. "And it would make it very hard for Wycombe to overturn our goal difference."
Macken agrees, adding: "One more win will see us through.
"It's difficult when you've played quite well and not got the results.
"But the confidence is there. We have to put last week behind us. It's now about Saturday and getting the right result.
"Huddersfield know we're fighting for something and that it won't be easy.
"And we've put in good performances against the big teams in the division before."
If Walsall do fail on Saturday, they might then have to go to another play-off chasing team MK Dons next week still needing a result.
But Smith is confident and relaxed enough to even see the funny side of that.
"The two teams we play in our last two games, Huddersfield and MK Dons, will now end up meeting in the play-offs. And they'll probably both want scouting reports from me," he joked.