Shrewsbury Town restoration needed time, says Wycherley
By Ged Scott
BBC Midlands Sport
Last updated on .From the section Football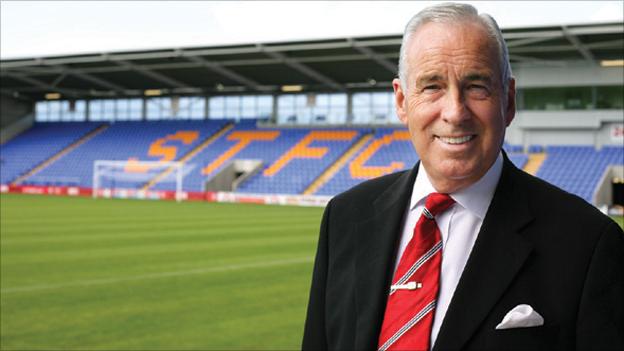 Shrewsbury chairman Roland Wycherley has only to look at the fate of neighbouring clubs along the Welsh border as a reminder of just how long it can take to build a successful club.
Town's promotion to League One restored them to English football's third tier, where they were in 1996 when Wycherley took over the then cash-strapped Shropshire outfit.
"I've been chairman now for 16 years and I get reminded that we were at this level when I took over," Wycherley told BBC Radio Shropshire.
"But I hope that the majority of the fans understand the infrastructure and the sustainability of the football club now.
"I take time to look at clubs like Wrexham, Chester and Telford. And you feel for their fans.
"And I hope the fans see why it's taken so long to get back to this level, with such a solid base."
Town's current blissful state, looking forward to League One football under Graham Turner and already rated as short as 6/1 to make the play-offs next year, compares favourably with their three main local rivals.
While Shrewsbury have gone up, Hereford, from where Turner returned to the Meadow two summers ago, could be about to go the other way.
Chester and Telford, although bouncing back healthily now, both went out of business.
And Wrexham, currently vying to return to the Football League via the Blue Square Bet Premier play-offs, came very close.
Wycherley admits that Shrewsbury too could have gone the same way, had they not engineered the record £500,000 sale of big Geordie stopper Dave Walton to Crewe in October 1997.
"No question whatsoever," adds Wycherley. "When I took over in July 1996 we had no money.
"I think it's generally recognised that we were £750,000 in debt and the bank would not lend us any money.
"Only the sale of Dave Walton gave us the breathing space to continue.
"We had no money to invest in the team and inevitably we were relegated.
"They were dark days, although not as dark as when we went out of the league."
Shrewsbury's shock relegation under Kevin Ratcliffe in 2003 - following a miracle escape three years earlier - nearly brought an end to Wycherley's reign.
"I offered my resignation to the board," he admits. "It was the worst feeling I'd ever had in my life. It was three months before I went out in public and accepted any invitations."
A year later, Shrewsbury bounced back under Jimmy Quinn at the first attempt via the Conference play-offs. And then followed seven seasons of frustration as, after Quinn quit, Gary Peters and Paul Simpson both took teams to Wembley - but no further.
But Wycherley always had one man in mind for the job - Turner, the manager who had led the club to their finest hours when they went up to the old Division Two in 1979.
And, when Turner was finally able to sell up at Hereford, Wycherley was quick to lure him back.
"As far as I'm concerned, Graham Turner is here as long as I'm here," added Wycherley. "And longer, even if I'm not here.
"I think we are a strong League One side and we can get into the Championship.
"And, with Graham in charge of football matters, we've got as good a chance as any.
"We finished eighth in what is now the Championship all those years ago - and we can do it again."
Whatever happens, Wycherley, who was born within walking distance from the old Gay Meadow, will take pleasure not just for himself - but his fellow Shrewsbury supporters.
"If my epitaph was ever written it would hopefully say 'I did my best'.
"And, whatever I've done, I've tried to do for the benefit of Shrewsbury Town Football Club."
"When the fans came on the pitch after beating Dagenham & Redbridge last Saturday, to see the smiles and the happiness on their faces will live with me for the rest of my life."
Shrewsbury Town chairman Roland Wycherley was talking to BBC Shropshire sports editor James Bond.