Alex McLeish will focus on Aston Villa future after season
Last updated on .From the section Football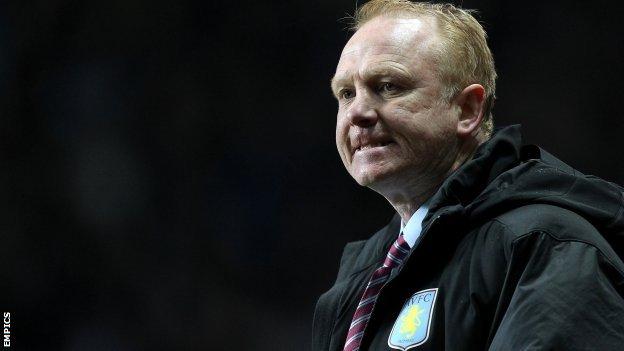 Aston Villa boss Alex McLeish has said he will only talk about his future at the club once the season is over.
The result left Villa, who have won just one of their last 13 matches, three points above the drop zone.
But McLeish said: "We are concentrating on the last three games before anybody makes any statements about futures. That includes me."
Villa have a better goal difference than the teams around them but they have picked up just three points out of their last seven games.
However, the club's American owner Randy Lerner gave McLeish a vote of confidence this week.
"I thought it was great leadership from the chairman," said the Scot.
"People want to hear what he's saying at this particular stage. As far as a vote of confidence, I didn't see it that way, I just saw it as support.
"They realise the tough job I've got and perhaps that's why they've chosen me because they've seen me getting through tough jobs like this before."
McLeish takes his side to West Brom on Saturday and faces a home game against Champions League-chasing Tottenham before a final-day trip to Norwich as he tries to stave off relegation.
"This is a tough challenge but I've come through tough ones before and I'm certain we'll make it," he added.
"We've got to try to play for the nine points. We've got to go to the Hawthorns with a tremendous attitude.
"In a derby game, it's roll your sleeves up and have a go."
On the question of relegation, McLeish added: "It's possible but we don't believe it will happen."