Harry Redknapp dismisses Vedran Corluka's 'lack of rotation' claims
Last updated on .From the section Football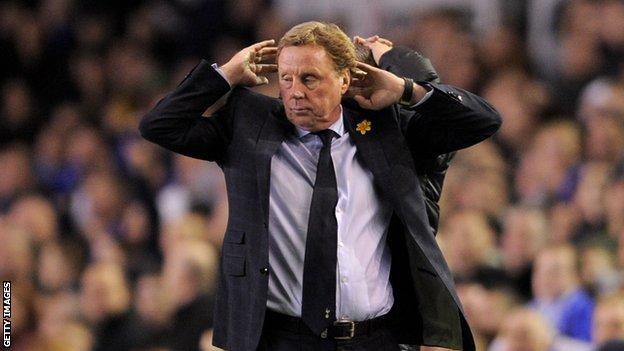 Harry Redknapp has described as "nonsense" claims by Vedran Corluka that a lack of squad rotation is to blame for Tottenham's slide.
Corluka, on loan at Bayer Leverkusen from Spurs, fears they could finish as low as sixth, despite at one point vying for the Premier League title.
But Redknapp dismissed Corluka's comments and is confident Spurs can still qualify for the Champions League.
"It's a load of nonsense and it's an excuse," he said.
Corluka raised his concerns about Tottenham's poor form in an interview with BBC Sport on Thursday.
Redknapp's men have fallen to fifth after one win in nine league games since hammering Newcastle 5-0 at White Hart Lane on 11 February.
The result left Tottenham five points behind leaders Manchester United with 13 games remaining, yet they now find themselves six points behind third-placed Arsenal with four matches left.
"I wouldn't be surprised if they finished sixth," said Corluka. "They didn't rotate enough, they don't have depth on the bench."
But Redknapp used his pre-match news conference ahead of Sunday's home game with Blackburn to hit back.
"I like 'Charlie' and he's entitled to his opinion," added Redknapp.
"Most of the players have played about 30 games. I didn't play any of them in the Europa League, most of them didn't play in the FA Cup until the later rounds.
"I don't ever remember Bobby Moore getting rotated or Geoff Hurst or Martin Peters, playing ankle-deep in mud every week.
"I don't think 30 games a season is too many for a player to play, and it's my decision anyway.
"It's difficult to rotate a team. It's OK to rotate if you have enough players to rotate and you're very, very strong in all positions.
"I've not been in a position, I feel, where it's been right to rest Gareth Bale. He's had to play, he's a fantastic player.
"I'm very happy with what I have done.
"I saw Frank Lampard played 60 games a season, I didn't see him talking about being rotated.
"I didn't hear anyone complaining a month or so ago when we were beating everybody and flying."
Redknapp has also confirmed he tried to sign Carlos Tevez from Manchester City in the January transfer window.
"I said to the chairman 'can you get me Carlos Tevez?'," Redknapp said.
"Daniel made some enquiries, but it wasn't doable. If he could have done it, he would have.
"He (Levy) would have loved Tevez, but it wasn't possible because his wages are £200,000 a week. It's not possible at Tottenham to buy him.
"He is a fantastic player. When he puts a shirt on he doesn't stop running, working, he's enthusiastic, he can play and he can score goals."