Roy Hodgson and England: He would 'be delighted' to be manager
Exclusive by Becky Ashton
BBC Sport
Last updated on .From the section Football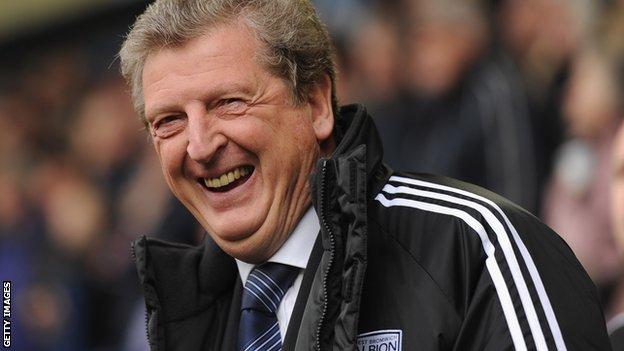 Roy Hodgson has said he would "be delighted" to become the next England manager.
In an interview with BBC Sport - before the FA's approach - the 64-year-old said he would love to manage his country.
"If ever the people in charge decided that I was the man they wanted then I would be delighted to do it but at the same time I am also perfectly happy for them to choose someone else if that's what they want to do."
Speaking in January before Fabio Capello quit as England manager, Hodgson said: "As far as the national team job is concerned I seem to be the bridesmaid, so I'm getting ready to catch bouquets.
"The only difference between now and the other times my name has been mentioned, or heavily put forward, is that it is now a few more years down the road.
"I don't write it off at all, far from it. But I don't rule anything out. At the moment, I am happy doing what I am doing and long may that continue but that's not to say something might come up some time in the future that really interests me and excites me."
Hodgson has won league titles in Sweden and Denmark, reached the Uefa Cup final and Europa League finals with Inter Milan and Fulham, and managed two international teams.
He moved to Sweden, taking charge of Halmstad, as a 28-year-old desperate to get into coaching.
"I wouldn't have received any offers from any English clubs at the time to work at that age as a coach," he said.
"I had not had a particularly special playing background, so I wouldn't have been well-known as a player, which may have got you a job as a young man.
"So it was really quite simply a situation where a friend of mine, Bob Houghton, had worked in Malmo and done extremely well there for a couple of years.
"Another team in the league had seen how well he'd done and approached him for the name of someone like him, a young coach with a lot to prove and a big desire to get himself started at that level, and they turned to me."
The Swedish side won the league championship in 1976, after previously being tipped for relegation, and won the title again in 1979 before Hodgson joined Houghton at Bristol City.
However, his first experience of coaching in England was something he remembers for all the wrong reasons.
"Bristol City was nothing short of a disaster in that we had only been there for a matter of weeks before the banks started to pull the rug from underneath the club," he recalls.
"My job when I eventually took over, as caretaker manager, was quite simply to carry on in the aftermath of all the players leaving the club and just fulfilling the fixtures."
Hodgson returned to Sweden, taking charge of Oddevold before enjoying spells at Orebro and Malmo, a club he guided to five successive league titles.
"I had a fantastic five years there, where things couldn't have really gone much better," he said.
"But by then my son was 18 and just about to leave school and either go to university or to start work. It just seemed that if we were going take a chance and go abroad somewhere, this might just be a good opportunity.
"Certainly, the prospect of Neuchâtel Xamax was an offer which was too good to turn down, although I did leave a very secure and comfortable job to once again try my luck in the unknown."
European Cup wins over Celtic and Real Madrid saw the Englishman catch the eye of the Swiss FA and he was soon appointed national boss.
"Strangely enough, the fact that I was English and didn't have any affinity to the French, the Germans and the Italians meant that it didn't work that much against me," he said.
Neither did the fact he guided the country to two major tournaments.
At the 1994 World Cup, they went out in the knockout stages following a 3-0 defeat by Spain.
After booking Switzerland's place at Euro 96, Italian giants Inter Milan approached him and Hodgson felt he could not turn them down.
"Italy was where I stepped onto the big time stage for the first time," he said.
"I was at a massive club that was known worldwide, and certainly in Italy, so that really was an eye-opener. Despite the fact I had had a fantastically long apprenticeship for the job I don't think even that could prepare me as it should have done and I had to learn quickly."
The experience of the San Siro was something that would certainly stand him in good stead, should he become the next England manager.
"There were autopsies after every game," he said. "They went through judicial processes all week, tearing apart every single aspect of the game and every single aspect of the performance - something I had been spared all of my life and I wouldn't mind being spared from it for the rest of my life, if I'm truthful."
After 36 years in management, Hodgson has not only proved himself at the highest level, he also has a track record of achieving success at unfashionable clubs.
He guided Blackburn to a top-six finish and a place in the Uefa Cup, turned FC Copenhagen from a side who had finished seventh and eighth in their previous two seasons to title winners in 2001 and took Fulham to the Uefa Cup final.
He also took Finland to the brink of their first ever international tournament, missing out on a place at Euro 2008 by just three points after securing six wins in their qualifying group.
It looked like Hodgson's big chance had come when he was unveiled as Liverpool manager in July 2011, but he lasted just half a season before being sacked after a poor run of results.
West Brom turned to him to save them from relegation and he led them to 11th in the table last season.
The Baggies are currently 10th, but it appears Hodgson may finally be offered the chance to shed his "bridesmaid" tag.