Manchester City v Manchester United: Foes reunited

By Sam Sheringham
BBC Sport
Last updated on .From the section Football
One city, two teams, and one match that could determine the destination of the Premier League title and the balance of power for years to come.
As Manchester holds its breath for Monday's showdown at Etihad Stadium, BBC Sport tracked down an iconic figure from each club's past to share their thoughts on the game.
In the blue corner, Mike Summerbee, who played in the last City side to win the league title in 1968. And in the red corner, Tommy Docherty, who managed United to FA Cup glory in 1977.
Can you remember a bigger derby?
Summerbee: "This is the biggest derby game in my lifetime without a shadow of a doubt. Everyone around the world will be watching this game. There is a buzz throughout the city and an extra buzz because of the situation both clubs are in.
"It makes you realise what a fantastic place Manchester is for sport. We have cricket, the velodrome, and all the facilities you could possibly want. And when the two teams are vying for a trophy the situation is fantastic."
Docherty: "It's always the game of the season, but the fact that both teams are going for the championship has added spice to it this year. You can sense the build-up from a fortnight before.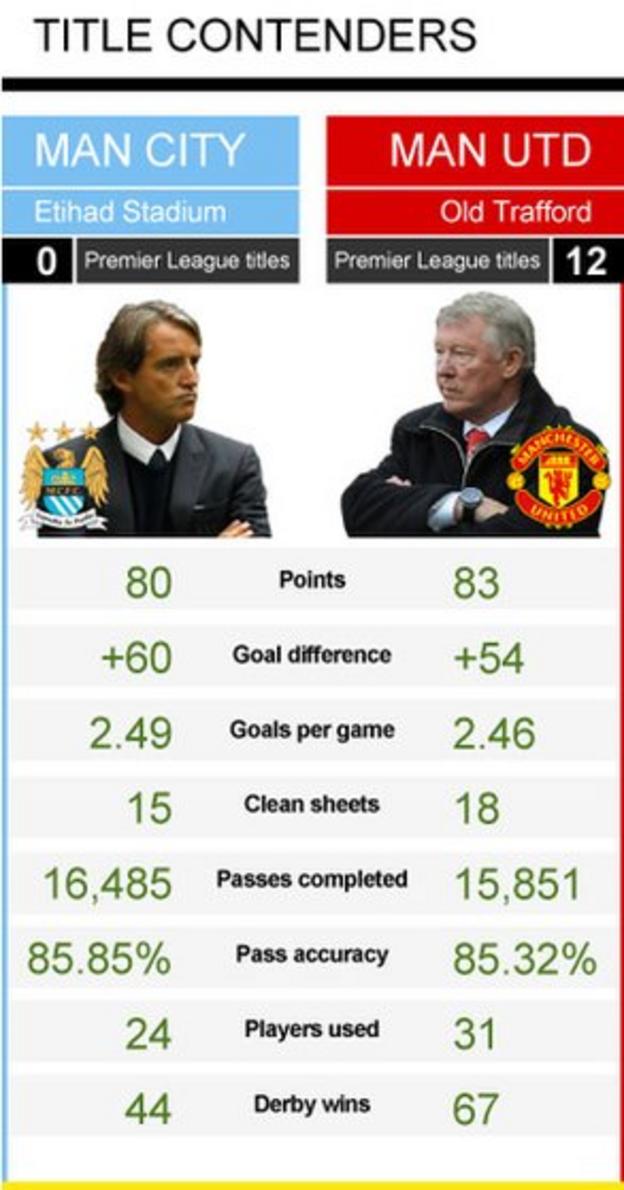 "I remember a pretty big derby [in 1974] when Denis Law back-heeled the ball into the net and we got relegated - but I don't like to talk about that."
How should the teams approach the game?
MS: "Manchester United are in the driving seat with their three-point lead, but I think both sides will cast everything to the wind, and just go for it.
"All the derby games I played in were exciting because both teams only knew one way to play. Manchester United with George Best, Denis Law and Bobby Charlton, and Manchester City with Francis Lee and Colin Bell. We all knew how to play and we went and attacked people."
TD: "United won't play for a draw. They will go and try to win it because they have the players to score. Defensively they are not as strong as they have been or should be, but City are very strong at the back.
"City are a great side and the game could be won and lost in the battle between City strikers Sergio Aguero and Carlos Tevez and the United centre-halves Rio Ferdinand and Jonny Evans. I think City will look to button up Wayne Rooney as early as they can because he is United's main danger and main goalscorer."
Which team is under more pressure to win?
MS: "There's no pressure when you are on a football field. They are all professionals who have played at the highest level. One or two might feel a bit jittery but at the end of the day this is what it is all about. You are playing in one of the biggest derby games ever in front of a full stadium. What more do you want?"
TD: "Sir Alex Ferguson and Roberto Mancini have been playing mind games to try to put pressure on each other. But for the players playing in front of 47,000 people and getting about £150,000-£200,000 a week, there's no pressure at all.
"Pressure is when the mortgage is due and you haven't got the money to pay it. The players today have great facilities, great grounds, great medical treatment and two sets of great supporters. It will be a great occasion."
What's your prediction?
MS: "I'm not predicting anything except that it's going to be a great game. The thing that worries me is some of the results in the last few weeks have been unpredictable.
"You have Real Madrid and Barcelona losing in the Champions League semi-finals, you have Manchester United being beaten at Wigan, City getting beaten at Swansea. It's such an exciting time, you can't predict anything because anything can happen."
TD: "I predict a 2-2 draw and United going on to win the league."
How significant will the result of this game be in the long-term?
MS: "This has to be City's chance to step out of United's shadow.
"Since Roberto Mancini has been there we've been in the Champions League and won the FA Cup so we have really established ourselves. I think this is a stepping stone for us to go on from the FA Cup, try to win the title, and go on from there.
"If we win, I don't see why we can't go on and dominate like United have. We have the players and the facilities."
TD: "If City win the league, it would be great for Manchester. Both will dominate the British game for the next 10 years because they have the players, the stadiums, the supporters and the finances to go out and buy whoever they want.
"Sir Alex will want to win the title this year as he does every year. But the worry for me is who is going to follow him when he decides to call it a day? That is an impossible task."