Schmeichel praises Ferguson's effect on Man Utd's season
Last updated on .From the section Football
Peter Schmeichel believes the fact Manchester United are still in contention to win the Premier League title is one of Sir Alex Ferguson's biggest achievements at Old Trafford.
United are three points clear of rivals Manchester City with the two
The former United and City goalkeeper told Football Focus: "Sir Alex Ferguson's achievement this year is one of his greatest.
"No words can praise him enough."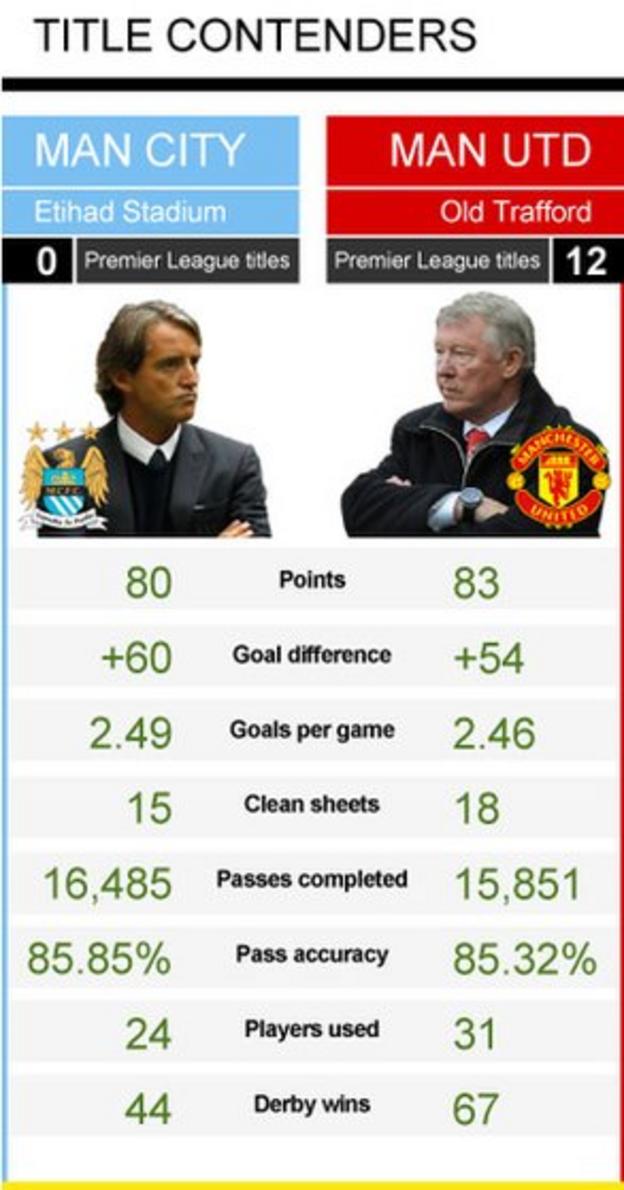 The 48-year-old believes Ferguson's ability to evolve has enabled him to keep Manchester United at the top of the table, alongside their big-spending neighbours.
"For someone of his age to keep moving with the times and understanding what makes these players tick is incredible," Schmeichel said.
"He always looks ahead. Not just the next game but four or five years into the future.
"I walked around Carrington (United's training ground) with him and we watched the kids train. He said, 'That fella over there will make his debut in 15 or 16 months'.
"That's how he plans. But he never says that to the players. He just talks about the next game."
Schmeichel played for both Manchester clubs but he is clear about where his loyalties lie.
"I'm a United fan. I'll die a United fan," he added. "I played for City but it was a different City - a newly promoted team. It was a lot about working with Kevin Keegan - I was interested in management.
"It was about getting the family back to an area where we were comfortable but I'm a Manchester United fan. I was at Old Trafford on Sunday watching [United's 4-4 draw with Everton]. It was painful and it's weird that it could happen."
United's defeat by Wigan and the dropped points against the Toffees last weekend have left the title race wide open with just three matches to go.
The result was the fifth time Ferguson's side have conceded three or more goals at Old Trafford this season, including the six against City back in October.
The Dane added: "That's disappointing but you have to remember this team weren't expected to win the title.
"It's a young team. A lot of young players, a team for the future.
"These young players shouldn't carry the can like an experienced team. Even though it was hurtful to watch on Sunday, I'm still very happy to be a fan to see those young kids produce and compete with arguably the most expensive team in the world.
"Man City have 40 world-class players and to compete with them is really good."