Man City v Man Utd: Ferguson and Mancini play down title chances
Last updated on .From the section Football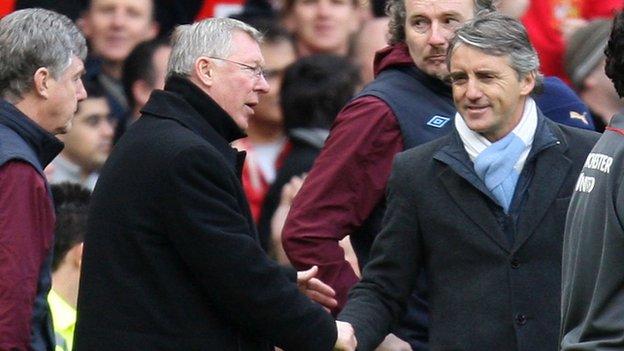 Sir Alex Ferguson insists Manchester City will be favourites to win the Premier League title if they triumph in
United boss Ferguson said: "If they beat us, I think they will probably go on to win the title.
"If we draw we'll be strong favourites but we will be trying to win."
Victory for City at Etihad Stadium will see them go top on goal difference - but manager Roberto Mancini insisted: "If we win they are favourites."
He added: "My opinion is always the same - I think they have more chance than us."
City trail United by three points with three games remaining and Ferguson maintained his side would be going for the victory.
United host Swansea before visiting Sunderland on the last day of the season, while City travel to Newcastle before hosting Queens Park Rangers on 13 May.
"There will be no talk about trying not to lose the game," Ferguson said. "With those two games City have a great chance."
But Mancini believes his side have the toughest closing fixtures.
"We play the derby and then Newcastle, that will be a very tough game, then after that QPR," he said.
"United will play against Swansea and Sunderland and I think they will be two easy games."
But Sunderland boss Martin O'Neill has strongly rejected the idea that the Black Cats would fail to offer much resistance against United at the Stadium Of Light on 13 May.
"We have taken four points off Manchester City this season. He had obviously forgotten to check the fixtures list properly," the Northern Irishman told the Daily Telegraph.
"I don't know what his insinuation was but if he had any idea about the league at all he would know that the integrity is pretty good."
Mancini may have riled O'Neill but he was full of praise for United.
The Italian added: "I have a big respect for United because, for me, they are the best team here and maybe in Europe, with Barcelona and Real Madrid. They have fantastic players and incredible support."
Despite the challenge of trying to overcome United in search of City's first top flight league title for 44 years, Mancini insisted he is feeling relaxed ahead of Monday's showdown.
"We don't have any pressure because we don't have anything to lose," said the Blues boss.
"For them, a draw would be a good result but I don't think they have this mentality. Like us, it's difficult to play for a draw."