Rangers: Administrator expects revised Blue Knights bid
Last updated on .From the section Football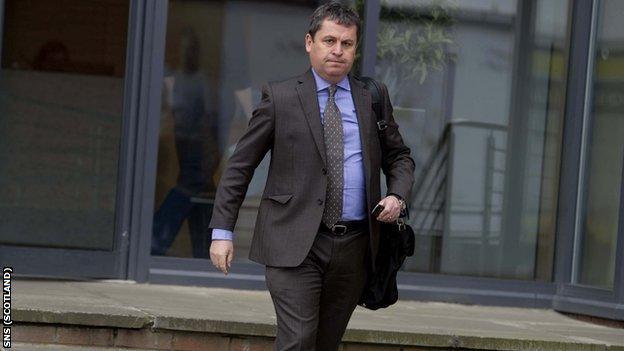 Administrator David Whitehouse expects a revised bid for Rangers from the Blue Knights as its current offer would be "a challenge for creditors to accept".
Brian Kennedy joined the Blue Knights' attempts to rival Bill Miller's bid.
"Both parties know the bid has got to be commercially at a level which would be acceptable to creditors," Whitehouse told BBC Scotland.
"Bill Miller's bid is acceptable at that level. The only barrier to Bill Miller's bid is regulatory clearance."
American trucking tycoon Miller is seeking assurances from Scotland's football authorities that Rangers will face no further sanctions ahead of next season, with the Ibrox club having already incurred a 10-point Scottish Premier League penalty for going into administration.
"We are hopeful that, within a very short space of time, the assurances that Bill Miller needs in relation to his bid can be delivered by the relevant authorities," said Whitehouse.
"We would hope that, at the very early part of next week, Bill Miller's bid will be clarified whether he can proceed or not."
BBC Scotland understands Miller's bid for Rangers is worth significantly more than that of the Blue Knights.
"It's been publicised that bid in quantum terms is £13m," said Whitehouse of the consortium led by former Rangers director Paul Murray and Sale Sharks owner Kennedy.
"That is not correct. It's very substantially lower than that and we have been in ongoing dialogue with Brian Kennedy on behalf of the Blue Knights during the course of today and we understand that he may be revising his bid during the course of today; certainly over the next 24 hours.
"What we're saying to Brian Kennedy and the Blue Knights is we are encouraging them to re-visit that offer and get it at a level where commercially it may be acceptable to the creditors.
"We're not in a position to quote a figure - they know a range. Bill Miller's bid is in the public domain and they have got a clear indication of the range of numbers which would be deliverable in other scenarios.
"If they are going to submit a bid at a level which would be commercially acceptable, they need to open very urgently a dialogue with the football authorities."
Whitehouse, whose firm Duff & Phelps was appointed administrator in February, also encouraged bidders not to engage in debate "dealing with the other's bid in a negative manner".
"What's not helpful is if their bid lands at a level which is actually less than creditors would get in a liquidation scenario," said Whitehouse.
"Nobody wants to go down that route. In terms of rescuing Rangers, I think they need to get their bid to a commercial level and focus on that element of their bid rather than talking publicly about Mr Miller's bid, which I don't think is helpful."
Players and management agreed wage cuts to allow the club to fulfil their fixtures for the rest of the season and Whitehouse reiterated the need to accelerate the takeover process.
"I'm reluctant to quote deadlines because invariably they tend to get missed, but there is a very real and large looming deadline, which is the end of the season, which is the point at which we have funding in place to continue to operate the business," he added.
"So, by definition, we have to conclude a transaction before that date and therefore that deadline is looming large.
"It's in the hands of the bidders to create a final date because they need to progress their positions to the point where they're capable of being accepted.
"I don't see any barriers in place to bidders being able to achieve that by the middle of this week.
"There is a very clear path which has been set to avoid liquidation and the regulators have been very clear in their desire to ensure that that scenario doesn't prevail.
"Therefore, it's in the gift of the bidders to make that happen."