Nigeria acts on Jos football bars
By Oluwashina Okeleji
BBC Sport, Lagos
Last updated on .From the section Football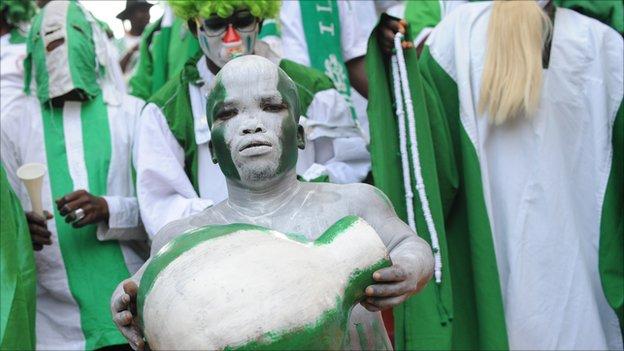 Nigerian authorities have banned bars in Jos from screening fooball matches following recent attacks by Islamic militant sect, Boko Haram.
Nine people were injured on Tuesday after a blast outside a bar as fans watched the Chelsea-Barcelona match.
The explosion gave rise to fears that football fans would become sitting ducks for Boko Haram's militants.
Police have now slapped an indefinite ban on all such centres across Jos.
"The Commissioner of Police in Plateau State has taken this decision to safeguard lives of football fans and the people of Jos," police spokesperson Samuel Dabai told BBC Sport.
He added: "I can't say for how long this ban will remain in place but the lives and property of the people remain of paramount importance.
"No matter your love for football, I think the most significant thing is to stay alive."
But bar operators have been outraged by the police ban, saying it will harm one of their major sources of income.
Some have suggested that government provides them with security instead.
However, Dabai asked those affected by the police order to bear with the authorities.
"Only a man who's alive can celebrate during football matches, so it's better to be alive.
"For now the ban may be inconvenient but the plan is to keep everyone safe."
Nigerians are, like most of the world, obsessed with the English Premier League.
Many fans choose to watch the action from football bars up and down the country, many of which to charge for the privilege.