Fabrice Muamba returns to Twitter as his recovery continues
Last updated on .From the section Football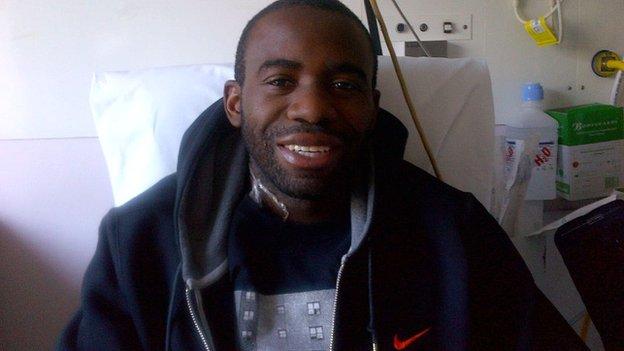 Fabrice Muamba has returned to Twitter for the first time since his cardiac arrest and may be present when Bolton play Tottenham Hotspur on Wednesday.
Muamba posted a message thanking fans for their support before captain Kevin Davies revealed the midfielder could be in the crowd at the Reebok in midweek.
"That would give us a huge lift," said Davies.
Muamba's heart stopped beating naturally for 78 minutes after his cardiac arrest on 17 March.
But he has stunned doctors with his rapid recovery, leaving hospital to return home on 16 April.
He wrote on Saturday: "Thank you so much for your prayers, love and support. Good to be back on Twitter."
The Congo-born star also sent a good luck message to his Bolton team-mates ahead of their match at Sunderland, writing: "Hoping Bolton pick up three points today. Come on lads, we can do this."
Muamba collapsed on the pitch during his team's FA Cup quarter-final match against Tottenham.
A consultant cardiologist attending the game as a fan rushed to his aid on the pitch but the player failed to respond to 15 defibrillator shocks before his heart finally started beating again.
His condition began to improve rapidly after he was stabilised at the London Chest Hospital.
The former England under-21 star described his recovery as "more than a miracle".
It is not yet known if Muamba will recover sufficiently to play professional football again.
Davies believes Muamba's presence back at the Reebok would give the club a huge lift as they battle to stay in the Premier League.
"There's talk that he could be coming to the Spurs game," said the 35-year-old Davies after scoring twice in Bolton's 2-2 draw at Sunderland on Saturday.
"We're delighted for him and now we're looking to address football matters."