Luka Modric may leave Tottenham - Harry Redknapp
Last updated on .From the section Football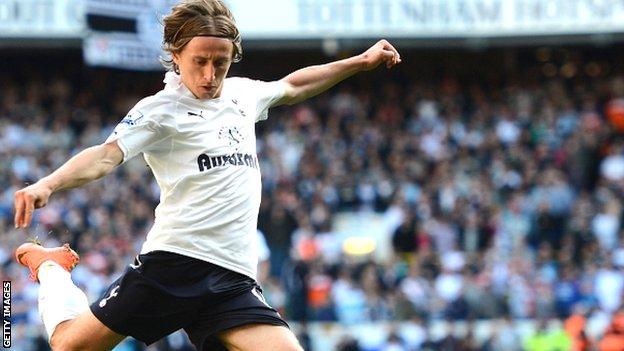 Tottenham manager Harry Redknapp has admitted that playmaker Luka Modric may leave White Hart Lane in the summer.
"Last summer it was vital that we kept hold of Luka," said Redknapp. "I would be lying if I said I was sure that he would stay [this summer].
"You would like to think Luka would still be here, but you never know."
Much is likely to rest on whether or not Tottenham are playing in Europe's elite club competition next season.
"Certainly I wouldn't see Gareth Bale wanting to leave here," Redknapp commented.
"At the moment he is happy here, a big fish here. He is still learning the game, a young boy, and this is where he needs to be.
"Luka, it's different with him. I don't know what he would do."
Modric, 26, expressed his desire to leave Tottenham in 2011 but the club rejected a £40m offer from Chelsea on transfer deadline day.
The Croatian then played a key role in Spurs spending much of the season in contention for the Premier League title.
But Redknapp's men have since fallen to fifth with just three wins from 14 games ahead of Sunday's meeting with Blackburn.
They sit three points behind fourth-placed Newcastle with a game in hand and seven behind third-placed Arsenal with two in hand.
But if sixth-placed Chelsea win the Champions League final against Bayern Munich, only three other Premier League teams can qualify for next season's competition.
"I think that [the rule] is unfair," Redknapp added.
"You look at the teams that some other countries have in it and we have a team in this country that might finish fourth and are in the final. That shows you the strength of our league.
"I think the rule should be whoever finishes in the top four should get a Champions League place.
"I don't see any reason why there can't be five English teams in it. I don't know whether they will change it, though. You know what it's like with people changing rules."