Boss Brendan Rodgers praises Swansea survival achievement
Last updated on .From the section Football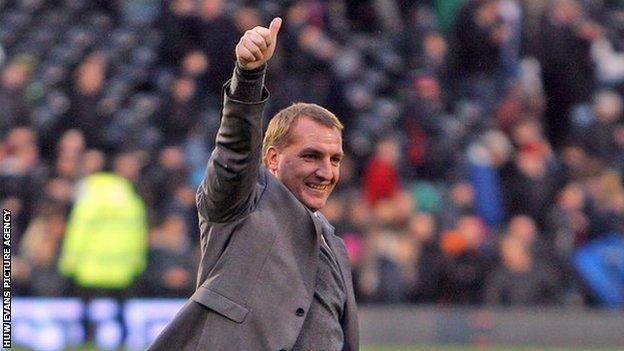 Swansea manager Brendan Rodgers says it has been a great achievement for the south Wales club to survive their first season in the Premier League.
"There is no doubt because of the level we are up against that this is a monumental achievement," Rodgers said.
"For little Swansea City to have another season when the odds were against us, makes us really proud."
The eight-goal thriller at the Liberty Stadium was hugely entertaining but unusual for a Swansea side who have been defensively mean at home.
There had seemed little prospect of anything other than a comfortable home win when Swansea took a 3-0 lead inside 15 minutes through Andrea Orlandi, Joe Allen and Nathan Dyer.
"This result was disappointing but we didn't lose the game. I can see the real achievement of what has happened," Rodgers said.
"I think it also shows that we are disappointed when we draw with teams like Bolton and Wolves, who have been in the division for years.
"We will take time to reflect... but it was disappointment because we were so good and what gets lost in that was the conceding of the goals when we have been so good defensively this season.
"It's only down to mental concentration. I can understand it because the players have been brilliant this year and when you are 3-0 up and 4-1 up you have to manage the game.
"There is still an awful lot of improvement in us as a group."