Rooney tops Premier League shirt sales in past 20 years
Last updated on .From the section Football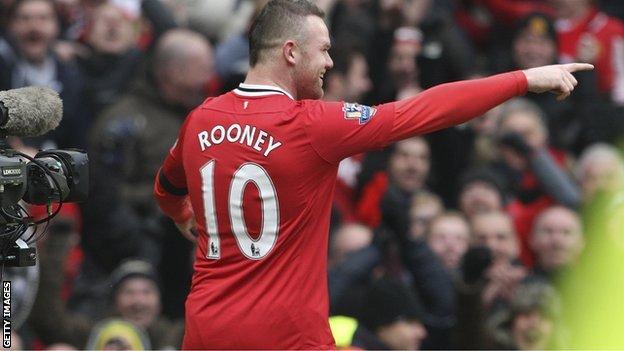 Wayne Rooney has picked up an honour ahead of Monday night's Manchester derby.
'Rooney' has been revealed as the top-selling name on the back of Premier League replica shirts over the past 20 seasons.
The Manchester United striker has beaten Liverpool's Steven Gerrard to the honour with Fernando Torres in third followed by Cristiano Ronaldo and Frank Lampard.
The figures come from Sporting iD, the company that provides the numbers and letters for the shirts.
But one name could have beaten Rooney to the award.
"Had David Beckham remained in the Premier League then this list might have looked different," said Rob Thayne, the company's global sales & marketing director.
"Certainly his move to Real Madrid in the summer of 2003 triggered record sales of 'Beckham 23' shirts, and before him Eric Cantona was a best seller.
"We first started producing Rooney's official player identity in 2002 after he made his professional debut with Everton at the age of 16. We then had to expand that production greatly following his move to Manchester United in the summer of 2004.
"But he truly went into a league of his own in 2007 when Ruud van Nistelrooy vacated the Manchester United number 10 and there is a global demand that shows no sign of abating."