Neil Lennon sympathy for beaten Ally McCoist
Last updated on .From the section Football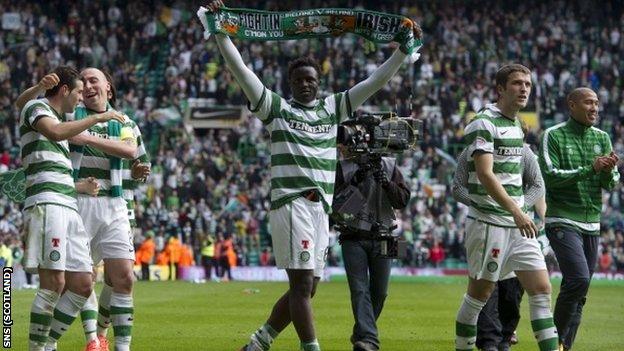 Neil Lennon expressed sympathy for counterpart Ally McCoist after what the manager considered was one of Celtic's easiest Old Firm derby victories.
"It was as emphatic an Old Firm win as I've seen for a Celtic team for quite a while," he said after the 3-0 win over the side troubled by administration.
"I think Ally's been left high and dry by a lot of people.
"And basically he's been the spokesperson for the club for the last three or four months."
One of Rangers' three potential new owners dropped out of the bidding process last week while another was told its offer was not realistic.
And the Scottish Football Association handed the Ibrox club a year-long signing ban because of unpaid bills.
"They've had a tough week and Ally's had to deal with things that football managers shouldn't have to deal with," said Lennon when asked if he thought the off-field problems had affected Celtic's city rivals.
"That's a huge distraction from what he's trying to do and, in his first season as well, he's had to take on a lot.
"I wouldn't have liked to be in his shoes."
Celtic, who had already clinched the title, are now 21 points clear of the former champions, who were docked 10 points for going into administration.
"What's gone on, Rangers are getting punished for it, the fans are suffering for it, but I think Ally's the one who's suffered more than anybody," said Lennon.
Lennon and McCoist had an infamous touchline spat at the end of an Old Firm derby, but the Celtic manager said that last March's events were forgotten.
"There's tensions always around these games, but I think we have a healthy respect professionally for each other," he said.
"It is a dog-eat-dog business, it's me or him, and it's my day today, but he's had a couple of days at Ibrox this year where they've come out on top.
"From a personal point of view, I've got a lot of time for the guy, but professionally I have to do my job and what's best for Celtic."
Lennon was delighted with the performance of his side, who had lost the reverse fixture 3-2 at Ibrox last month.
"It has been a great day for the club - and the players and the supporters," he said.
"I couldn't be more happy with the performance.
"We adapted to the system after about 15 to 20 minutes and we were excellent.
"I wanted them to start the second half well and we did that and, to be fair, Allan McGregor's made a brilliant save from Joe Ledley and then we score a great third goal.
"And, after that, it could have been a question of how many.
"But, overall, I can't ask much more of the team today.
"We were exceptional. It is really difficult to single out players, but the whole team as a unit was magnificent."