Rangers manager Ally McCoist's liquidation fear grows
Last updated on .From the section Football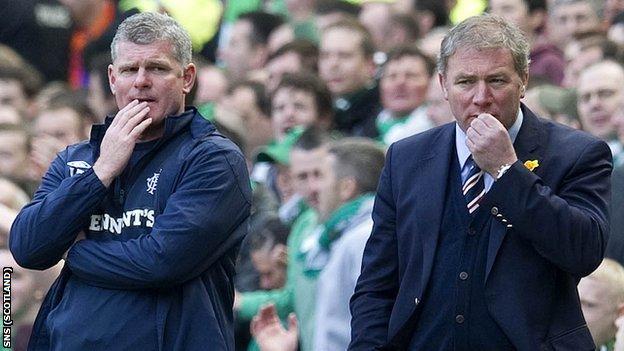 Rangers manager Ally McCoist admits the liquidation of the Glasgow club is an ever more likely prospect.
The club's administrator has yet to name a preferred bidder, with working capital only in place to keep the club going until the end of the season.
"I would have to say that looks more of a possibility now than it ever has," said McCoist after a 3-0 loss to Celtic about the chances of liquidation.
"I don't know where we'll be in 24 hours, where we'll be in 48 hours."
The Blue Knights consortium, which includes former Ibrox director Paul Murray and Sale Sharks owner Brian Kennedy, are up against American tycoon Bill Miller in the pursuit of taking control of Rangers.
But neither party has yet submitted the unconditional bid that administrator Duff & Phelps think would be commercially acceptable to Rangers' creditors.
With the season soon coming to an end, the prospect of either bidder achieving a company voluntary arrangement and keeping the club's history intact appears to be diminishing, making liquidation and an asset transfer to a new company a more likely outcome.
Following defeat at Celtic Park, McCoist said: "We'd a big battle on our hands, but we've got a far, far, far bigger battle on our hands in the next few days, which is obviously more important in the grand scheme of things.
"This is the really worrying and concerning issue; you can't organise pre-season training, you can't organise pre-season trips, you can't organise pre-season games, you don't know who your staff will be at the start of the season, you don't know what players you'll have. It's a shambles really.
"It's our football club, it's our livelihoods, it's the livelihood of the players, the staff and it's the institution that our supporters have loved and come to watch and support for 140 years, that's the important thing."
McCoist believes his players would "need to be made of stone" not to have been affected by the club's off-field problems and said of the derby defeat: "It was a disappointing afternoon.
"I'm certainly disappointed in the manner in which we lost the goals.
"I'm sore. I'm hurting at the result, I'm gutted that we lost.
"If it's any consolation to our support, everybody in that dressing-room to a man is really, really down.
"But we'll be back. I don't know in what shape or form we'll be back, but I can guarantee we will all be back."