Paul Tisdale focusing on Exeter City's future
Last updated on .From the section Football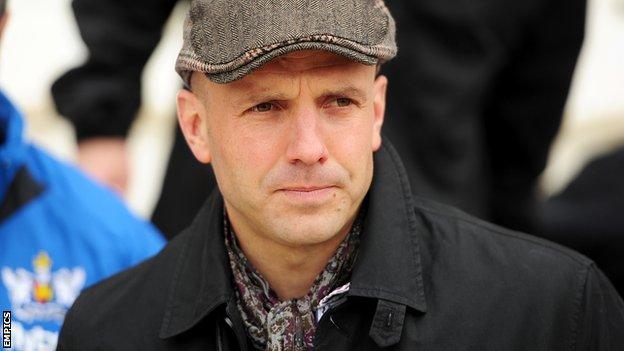 Exeter City manager Paul Tisdale says he is looking to the future after his side were relegated from League One.
"It's a building process to do over the next couple of months ready for the start of next season," Tisdale said.
"I have to be capable of looking to the future and looking to the next steps and not dwell too much on this," he told BBC Radio Devon.
"I'm very disappointed but I'm pragmatic enough with my appraisal of where we are, how we've played this season and things we need to do from here.
"I'm a realist and it's a starting again process."
Last season was City's high-point in the division, with the club just one point off a place in the play-offs.
But with the likes of Ryan Harley, Matt Taylor and Jamie Cureton leaving in the summer, Tisdale's squad struggled for much of the season.
"We've played a certain way, we'd have never got to a point in the league that we did without playing that particular way.
"We've carried on this year and we haven't been able to sustain the performances, we've had injuries like we've not had in the five or six years since I've been at the club, and circumstances that we've not been able to recover from.
"It was always going to be a very difficult season for us in League One at any time, whether it's this year or another year.
"I'd have expected and hoped for us to do better and not be relegated, but when things don't quite go to plan there is that likelihood.
"As much as there are decisions that maybe over the course of the season I could have made differently, we played our way, we've done our best and the sprit in the club, in the playing staff, has been excellent from start to finish."