Martin Ling calls on Torquay fans to give Gulls a push
Last updated on .From the section Football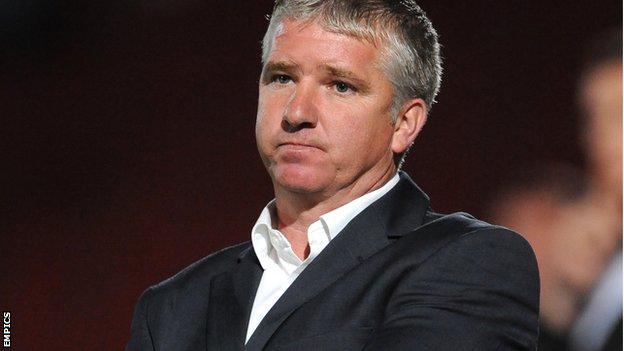 Torquay United manager Martin Ling has called on the club's fans to help them get automatic promotion.
The Gulls saw their chance to go two points clear in third place slip away from them as they conceded a late equaliser in their 1-1 draw with Crewe.
Torquay have sold out their allocation of 1,350 tickets for the trip to Hereford United on Saturday.
"Give us that one last push, we just need helping over that line," Ling told BBC Radio Devon after the draw.
"We are a little bit wounded, but we're certainly not dead, that's for sure.
"We'll patch them up, get them out there again and if they give me a performance like today we will win at Hereford.
"I can't affect what Crawley have got to do at Accrington, they probably think they've just got away with blue murder.
"They've struggled against Hereford, so Accrington away isn't an easy game but nor is Hereford.
"But if they give me the performance that they gave me for 90 minutes today we will win at Hereford."