Jersey's Jack Cannon wants the island side to join English league
Last updated on .From the section Football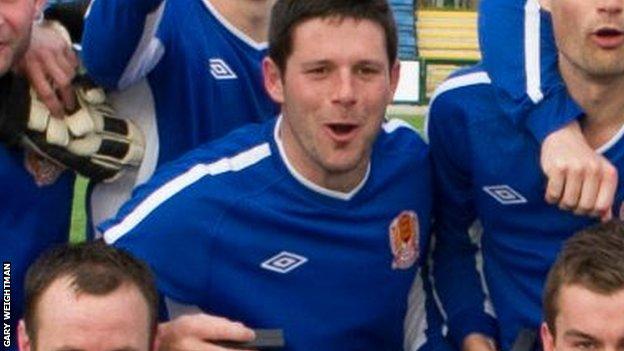 Jersey footballer Jack Cannon says the island side want to follow Guernsey's lead and have a team playing in an English league.
The victory emulates Guernsey's achievement two years ago.
Guernsey have since joined the Combined Counties league and won its Division One in their first season this year.
Cannon said: "Guernsey won it last year and they've kicked on.
"I know there's not much talk of that happening in Jersey, but that's what we want to do as a group of players.
"I'd urge people to try and sponsor us to maybe do something like that," added the St Paul and former AFC Bournemouth youth team defender.
And he says that the win, which means Jersey will represent England in the Uefa Regions Cup this summer, is the biggest achievement in his footballing career.
"When we won the Island Games in 2009 we said that was the biggest thing we've ever done, but this has eclipsed that.
"You can't beat representing your nation at any level, be it professional or amateur, we're thriving off it and we can't wait."
Jersey face Guernsey next week in the Muratti at Springfield, and will again meet their Channel Island rivals, the Isle of Man and host Gibraltar in a tournament this summer.