Dean Thomas to fight on at relegated Hinckley United
Last updated on .From the section Football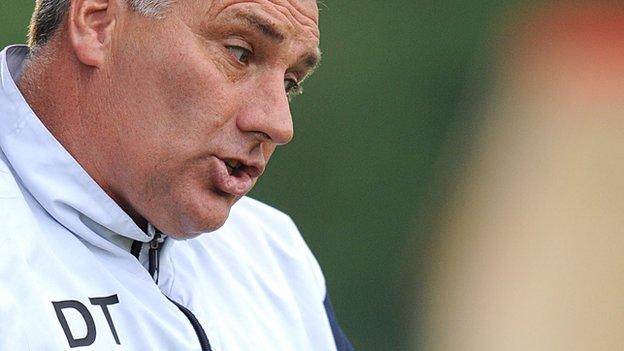 Dean Thomas says he still has the desire to stay on as Hinckley United manager following their relegation.
It was the first time Thomas, who has been Hinckley boss since 1997, has been relegated in 17 years as a manager.
"My ambition is to push on next season and get back into this league," Thomas told BBC Radio Leicester.
Victory on the final day would have been good enough to keep the Knitters up after fellow strugglers Corby, Solihull Moors and Vauxhall Motors all lost.
But following Hinckley's 4-2 defeat at Stalybridge, Thomas offered no excuses for his side's relegation to the Northern Premier Division.
"We haven't got it right this season," he admitted.
"We have made too many mistakes and we haven't been good enough. We have let everybody down and let ourselves down. It's been a difficult season.
"We have to pick ourselves up and go again. It's a horrible day but we have to see what direction the club wants to go in. It hurts. But we have to remain as positive as we can and keep faith in what we are trying to do as a football club, off the field and on it.
"It's a dark day but we have to keep going. We need people who are in it for a fight."
And despite the relegation, Thomas, who guided his side to the FA Cup first round for the fourth time in their short history in November, remained upbeat.
"It isn't the end of the world, it might seem to be, but it isn't. We have to remain positive.
"As a manager I still have the burning desire to keep working hard," continued the former Wimbledon, Northampton and Notts County defender.
"I always played with a spirit. I was never questioned about lacking commitment in any game. If i was poor on the ball, I worked hard off it and I will keep working hard. My ambition next season is to make sure we get back into this league, where we want to be and where we deserve to be.
"There is an awful lot of work to be done. We have to be more solid as a club."
Thomas, who took over as Knitters boss when the club were formed in 1997, added: "From a footballing point of view it is my worst day in 17 years of being a manager.
"This has been something that has maybe been on the cards for the last three years. We have fought, scrapped and battled against all the odds with all the financial problems.
"We are not in a great shape financially but I don't want to use that as an excuse. I chose these players and it hasn't been good enough.
"On a personal level, we have to get it right on the pitch and I have a driving ambition to do so. I will pick myself up and go again. No one works harder than me, no one is as passionate as me or is hurting as much as me."