Walsall 'not that far away', says skipper Andy Butler
Last updated on .From the section Football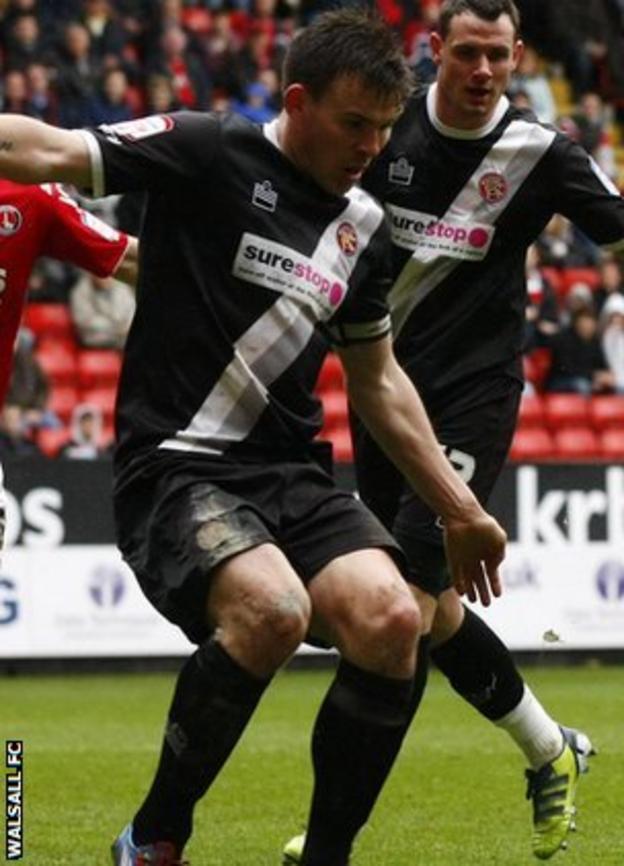 Walsall skipper Andy Butler insists that they really could challenge for the League One play-offs next season - if they could get a change of luck.
After sealing their safety with a game to spare against Huddersfield, the Saddlers go into Saturday's final game at MK Dons trailing the play-off pack by 23 points.
But Butler insists: "We're really not far away. It's a game of fine lines.
"Turn a few draws into wins and you could be up there," he told BBC WM.
"We've not had the rub of the green this season. We've had red cards that weren't red cards and unfortunate goals conceded in the last minute.
"Maybe it will balance out next season and we'll get a few last-minute goals to win games.
"That's all it is. We've looked at games like Rochdale and Bournemouth. Teams that have come here and done us 1-0. And we could be on 60 points easily.
"If we just raise our game 5%, we'd be play-off contenders.
"With the team we've got, we should be up there. Who knows what will happen next year if we keep the squad together.
"We've played well and always taken points off the top teams."
That was again illustrated at Bescot on Saturday when they came from behind to draw with this season's League One record-breakers Huddersfield, now bound for the play-offs.
"We played really well second half," said Butler. "We made them look an average team, pushed them onto the back foot and could have scored more."
And on-loan Florent Cuvelier's second-half equaliser, coupled with Wycombe's home defeat by Notts County, ensured a sixth successive season in the third tier of English football for Dean Smith's Saddlers.
"We got got into the dressing room, turned on the TV and it was on that exact game, Wycombe 3-4 Notts County and they'd scored in the last minute," added Butler.
"That was a little bit of karma after what we've had done to us this season.
"But we never felt like we were in that much trouble, until the last three matches when we didn't get points.
"It's completely different to last year when we thought we were down.
"And I'm just really pleased for Dean Smith. He's one of the best managers I've worked with. He's a nice guy, with good all-round management skills.
"All the lads want to do everything they can for him."