Walsall's on-loan Stoke midfielder Cuvelier considers next move
Last updated on .From the section Football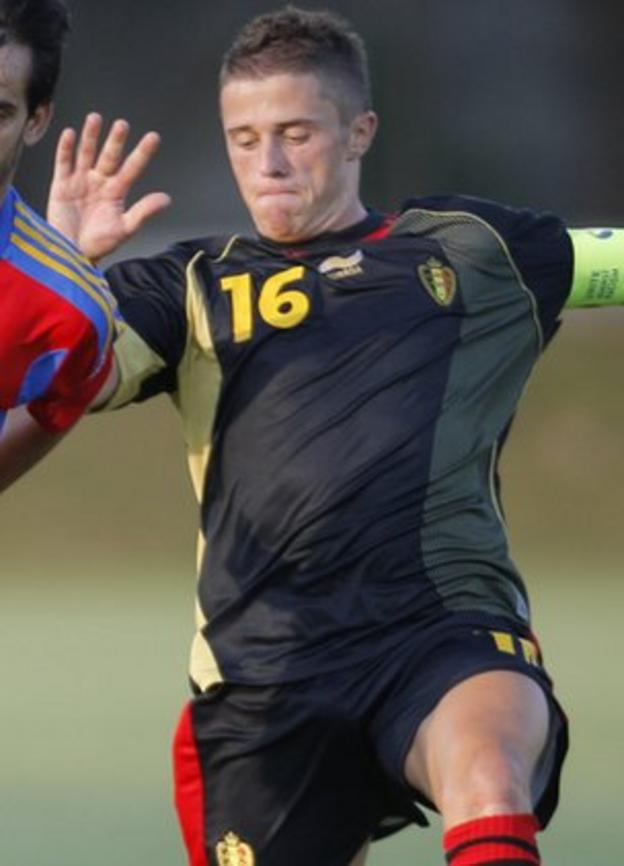 Stoke City midfielder Florent Cuvelier is considering his next move following his return to the Potters from loan with League One survivors Walsall.
Cuvelier signed off his 17-game, three-month stay at Bescot with the goal that ensured safety for the Saddlers in Saturday's 1-1 draw with Huddersfield.
And the Belgian Under-19 international now wants to find out what Stoke boss Tony Pulis might have to offer him.
"My feeling is that I receive an offer from Stoke," he told BBC Radio WM.
"Now we wait and see what is going to happen.
"I need to play and I want to play. As long as I play football I am happy."
That does not rule out another loan move next season back to Walsall for the diminutive, but dynamic 19-year-old, who made such an impact for Dean Smith's side with four goals - the latter pair of them in his final two games.
"Dean Smith gave me my chance and helped to start my career," said Cuvelier.
"You want to work for people who believe in you.
"He said to me he could be interested if I wanted to go out on loan again next season, which is nice to hear. And I have spoken to the manager about that."
Cuvelier would be warmly welcomed back to the Saddlers' dressing room if he was to return.
"The gaffer did ever so well to bring him in; he's excelled," skipper Andy Butler told BBC WM.
"He's got a massive future ahead of him. It's his all-round game. I've never seen a four-foot six lad shove a six-foot five lad off the ball before, like he did against Huddersfield on Saturday.
"I wouldn't be surprised if he got as high as the Championship next season. And he's one of the nicest guys you'll meet."
Certainly, Cuvelier's character spoke volumes after he had helped seal safety on Saturday - as he spoke not about himself but the team.
"It is such a relief," he added. "It is hard to describe how happy I am. But the most important thing is that we are staying up. It has been very stressful playing to avoid relegation.
"I scored goals and did well, but I did not do that on my own. You cannot play one versus 11. All the staff and players have helped me become a better player."