Chick Young's view on Rangers

By Chick Young
BBC Scotland football pundit
Last updated on .From the section Football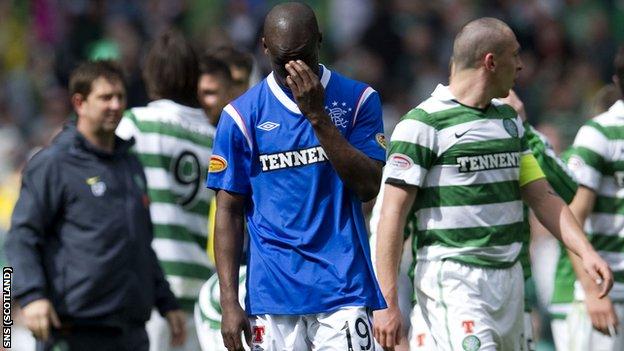 Rangers, it seems, are ploughing towards liquidation as surely as the Titanic towards the iceberg.
To escape would be miraculous: but I fear the end is nigh.
Quite the biggest story in the history of the Scottish game has triggered emotions which range from the grief and anger of the Ibrox support to the dark humour of Celitc's Green Brigade whose remarkable artwork featuring the amended four horsemen of the Apocalypse was the product of talent and man hours.
I did smile at the banners and imitation gravestones on display at Celtic Park on Sunday.
It's incredible how creative people can be at the expense of others, like the announcer at Celtic Park who chose to play the Three Degrees classic When will I see you again? as the Rangers support and team departed.
Meanwhile, the SPL have a new philosophy: turning procrastination into an art form. The decision has been made to make the decision later.
However, while others are in stitches, Rangers are failing spectacularly to see the funny side of all this.
And Celtic fans who are eager to dance on the grave of the Ibrox club should be careful what they wish for, trust me.
Even if Rangers manage to cough and splutter out of administration with a CVA they will be weary and wounded for years to come. And one-horse races tend to be a little yawn inducing.
If you thought Ally McCoist's team at Celtic Park were a shambles then in days still to come it could get much worse. I suspect supporters of the club may yet recall 29 April 2012 with some nostalgia.
Rules have been breached and therefore there must be punishment. But I find it distressing that the priority is not saving the club.
Scottish football cannot afford to lose any organisation that promotes our game, from Third Lanark to Gretna, far less a business which attracts 50,000 customers to home games.
These people will not spread in the breeze to new adopted clubs, to Paisley or Maryhill or Motherwell or Greenock. They will chuck it. And the national sport will shrink accordingly.
Celtic will have no competition and the league will become a parade. It will be an embarrassment of a competition.
The anger of the Rangers support who marched on an empty Hampden in a gesture which did little more than ease their frustration and advertise their fury might have been better directed at club owner Craig Whyte.
They seek him here, they seek him there but Whyte will never again be seen at Ibrox and could still collect the jackpot from his majority shareholding.
Unless that is, we have liquidation which would trigger a full investigation into what has really been going on at the club under his term of duty and that of his predecessor Sir David Murray.
Transparency? If that is what they really want then rip the body apart in the post mortem. And be prepared for some grim truths.
Creditors will be horrified at the prospect but it is in truth the only real option now.