Roy Hodgson named England manager: What makes Roy tick?
Last updated on .From the section Football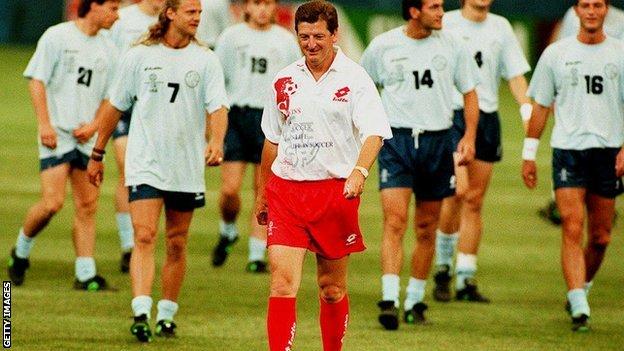 Roy Hodgson is beginning his tenure as the England team's 13th permanent manager.
After a career that has taken him around the world, the 64-year-old has accepted the biggest job in English football just over a month away from the European Championship.
Following his official unveiling at Wembley on Tuesday, BBC Sport takes a look at the man behind the coach who has had an author at training and compares himself to a Russian artist.
ROY THE READER
The humble manner in which Hodgson greeted the gathered media as was indicative of a rounded individual who recognises that football is not the only thing that life has to offer.
As well as admitting that, like other managers, he is happy to unwind with a glass of wine in front of Match Of The Day, Hodgson may be alone amongst his peers in choosing to spend his spare time buried in the works of high-end literature from around the world, from authors such as John Updike,Philip Roth and Saul Bellow.
Indeed, after Hodgson mentioned the name of Birdsong author Sebastian Faulks in an interview, Faulks sent Hodgson a signed copy of a new release and then later asked to visit the Fulham training ground.
It is perhaps these literary interests and the ability to absorb his ever-changing surroundings that keep Hodgson grounded.
Of his love of literature, Hodgson told the BBC: "It always has been an escape route. It's always been a way to focus and concentrate my mind and stop grumbling over minor things.
"The world of football, it takes up all of our time, but it's still a relatively minor subject in terms of world importance."
ROY THE TRAVELLER
Typical of a man renowned for his intellect, Hodgson compares his globe-trotting time as a manager to the work of Russian expressionist artist Wassily Kandinsky.
Making the link to Kandinsky's work, he said: "It [my career] has gone sideways, backwards, and then upwards again."
Hodgson's travels began when, as a 28-year-old who had never played professional football, he moved to Sweden to take charge of Halmstads.
Learning on his journey through Switzerland, Italy, Denmark, Norway, the UAE and Finland, Hodgson is now able to speak Norwegian, Swedish and Italian well and can hold a conversation in German, Danish, French and Finnish.
Conveying his message to his England players should pose no problems, but after predecessor Fabio Capello was criticised in some quarters for a perceived lack of interest in learning English, Hodgson cannot be accused of ignoring the importance of communication.
"If you don't learn the language, you can't speak to people and you can't read what's being written about you and being said about you," he said in January.
"Football coaches need to communicate. If you can't communicate, then I don't know how you can coach, to be perfectly frank."
ROY THE MANAGER
Hodgson has admitted that he has work to do to win over some sections of the fans and the media, simply because he is not Harry Redknapp.
However, this is nothing new to him after a brief and unhappy spell in charge of Liverpool. As Radio 5 live's Pat Murphy put it, Hodgson "grew a tough outer layer" at Anfield, "where his main crime appeared to be that he wasn't Kenny Dalglish".
His time on Merseyside apart, English fans will best know Hodgson as a man who has turned Fulham and West Brom into teams that are greater than the sum of their parts, a task that proved too great for some England managers of the recent past.
"International management will suit him, because he takes a measured, balanced approach to the game," added Murphy, who has worked at close quarters with Hodgson during his time at the Hawthorns.
"Hodgson just gets on with things, without playing to the gallery. He deplores the modern obsession with poor runs of form, intrusive TV cameras on the technical areas, strident phone-ins and talk of a crisis when a side has lost three in a row.
"He is approachable, steeped in football, with an encyclopaedic memory and an enviable contacts book, but the job will be done his way. He sees himself as a coach, not a manager, and the players will have to get used to a painstaking approach that involves drill after drill.
"If the England players are open-minded enough they'll warm to a man who is more substance than style."
ROY ON ROY
Even though he admits that he was not the preferred choice of some, Hodgson has revealed that the call from the Football Association came as no surprise. As Murphy says, Hodgson "knows his own worth".
The success of winning the Swedish title with Halmstads, Danish title with Copenhagen, taking Fulham to the Europa League final and seeing Switzerland climb to third in the Fifa world rankings is sprinkled with disappointments at Bristol City and Liverpool, all experiences that Hodgson will bring to the biggest job of his career.
"What happens to you early in your life forms you," he said. "I quite like the fact my career has taken me to different places, enabled me to live in different countries and meet lots of different people.
"I don't know if I go desperately seeking challenges but it's been quite nice to have the opportunity to work in different countries and to experience different cultures.
"I am one of those people who could quite frankly say that, after 36 years of doing it non-stop, I have been very fortunate."