Walsall keeper Jimmy Walker awaits decision over future
Last updated on .From the section Football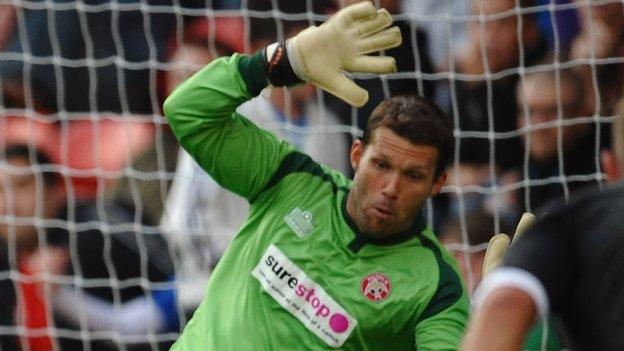 Veteran Walsall keeper James Walker hopes to carry on playing for the Saddlers next season - as long as he feels happy that he can contribute.
The Saddlers have released six players, most notably ex-Manchester City striker Jon Macken, as well as Olly Lancashire, Kevan Hurst, Anton Peterlin, Connor Deards and Jonny Haynes.
But 38-year-old Walker must still talk to boss Dean Smith over a new deal.
"No decision yet," he said. "I'll speak to the gaffer to see what's happening."
Walker told BBC WM: "As long as I'm feeling fit and am enjoying it, I still feel I can do the job and contribute.
"Then I'll definitely be here next season, if he gives me a contract."
Walker received a great reception from the Saddlers fans following Saturday's season-closing 1-0 win at MK Dons, suggesting that it might possibly have been his last game for the club.
But 38 is not an uncommon age for a keeper, given the example of Peter Shilton, Pat Jennings and Dino Zoff, who played in a World Cup final at the age of 40.
"I've been privileged enough to do the job for a few years," admits Walker. "But I was talking the other day to Mick Kearns, our former keeper, and he pointed out that you're a long time retired.
"The fans were fantastic on Saturday but then they've been superb to me from the first moment I came into the team more years ago than I would care to admit."
While Walker waits to see if he will be kept on, Saddlers boss Smith has offered new contracts to nine players - Manny Smith, Mat Sadler, Emmanuel Ledesma, Alex Nicholls, David Grof, Richard Taundry, Darryl Westlake, Lee Beevers and Jake Jones.
The departure of 34-year-old former Republic of Ireland international Macken, who hit 21 goals in 76 games in his two seasons at Bescot, is the most surprising.
Adam Chambers has an option to exercise his right for a new contract, while a decision is still expected on Ryan Jarvis.
Smith already has Andy Butler, Jamie Paterson, George Bowerman and Saturday's matchwinner Will Grigg contracted to the club for next season, alongside young professionals, Mal Benning, Aaron Williams, Jamie Tank, Ben George and Kieron Morris.
"I'll sit down with the chairman and the board and discuss possible options in terms of recruitment," Smith told BBC WM.
"A couple of months ago we were falling like a stone but we had an injection of some players coming in on loan and they've done fantastically well and turned it round.
"But we want to do better than that. We've got to move it on now and get better for next season, when it really will be known as Dean Smith's team."