Cardiff underdogs against West Ham says Malky Mackay
Last updated on .From the section Football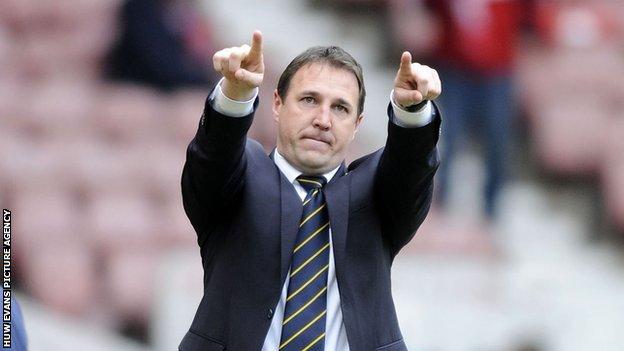 Cardiff City manager Malky Mackay believes that West Ham United will be expected to beat them in the Championship play-off semi-finals.
The Bluebirds host the Hammers at the Cardiff City Stadium on Thursday 3 May, with the return on Bank Holiday Monday.
"I would think the we are [underdogs], in terms of the expectation on a club the size of West Ham," Mackay said.
"It's a former club of mine and I know the pressure at that football club to do well and to impress."
West Ham were the bookmakers' favourites to win the division at the start of the season, but instead Reading took the title and will be joined in the Premier League next season by runners-up Southampton.
"I think that financially there was such a big gulf between themselves [West Ham] and a lot of teams in the division, and the spending power they had even in January," Mackay said.
"I think there's an expectation level on West Ham so automatically with that we would be underdogs in that game.
"You're talking about a team that for a vast part of the season were in second place - they might have been in first place at some points.
"So no matter what, there is that disappointment that they never got [an automatic promotion place]."
West Ham finished two points behind Southampton in the race for an automatic promotion spot, while Cardiff kept their hopes alive after Saturday's 2-1 win at Crystal Palace secured sixth place and the final spot in the play-offs.
"Going into last Saturday the odds were stacked against them, so I'm not sure it was too much of a surprise," Mackay added.
"Southampton were at home to Coventry, who had already been relegated, and they have a fantastic home record."
Should Cardiff win through against West Ham, they will face either Birmingham or Blackpool in the play-off final at Wembley.