Guernsey Muratti final side named
Last updated on .From the section Football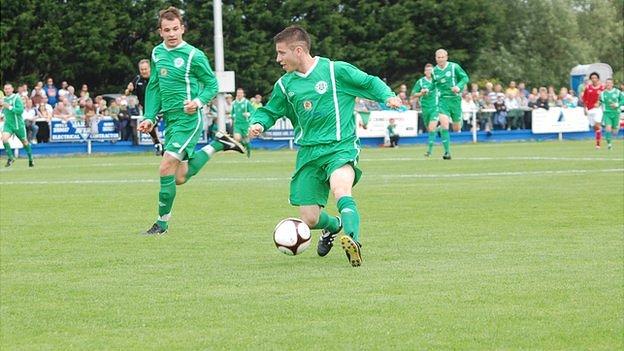 The 19-man Guernsey squad for the Muratti final against Jersey has been named by manager Kevin Graham.
Graham named an initial 23-man squad last month, which he has now cut down ahead of the match at the Springfield Stadium in Jersey on 7 May.
The list includes just ten members of the squad which beat Alderney in last month's semi-final.
Graham said one of the major factors in his decision had been the match fitness of players.
He said: "It's difficult at this time of year for a large group of players to retain match fitness as there isn't a huge amount of football traditionally in April.
"That's been helped along this season with the advent of Guernsey FC and the length the season runs."
Graham said he would reduce the squad to the final 18 on Saturday, after looking into some injury concerns.
He said: "We're just monitoring Ross [Allen] at the moment and we'll see how he gets on and reacts to a couple of training sessions and Glyn Dyer is just returning from illness so we need to monitor his fitness levels before we cut the squad to 18."
Guernsey squad (* indicates member of the semi-final squad)
Chris Tardif*, Paul De Garis, Simon Geall*, Jacques Isabelle, Sam Cochrane*, Jamie Dodd*, Alex Le Prevost, Tom Strawbridge, Ollie McKenzie*, Jason Winch, Angus Mackay*, Ryan Zico Black, Dom Heaume, Craig Young*, Rhys Jordan, Dave Rihoy*, Ross Allen*, Matt Loaring and Glyn Dyer.