Ally McCoist upbeat on Rangers bidding process
Last updated on .From the section Football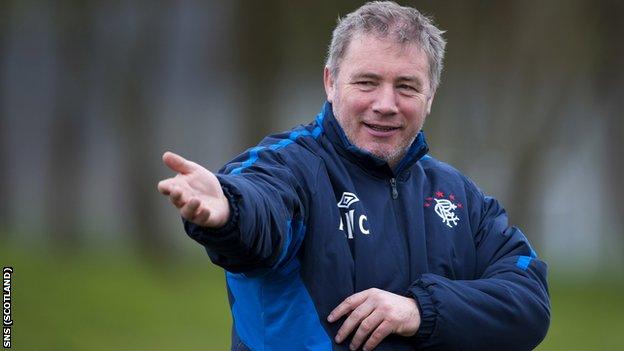 Manager Ally McCoist is "very hopeful" the administrator will name a preferred bidder for Rangers this week.
Duff and Phelps has been considering offers from Brian Kennedy and the Blue Knights and American rival Bill Miller.
McCoist has been told that both bids are likely to involve a "new company" situation but does not believe such a scenario would mean liquidation.
However, Kennedy has stated that the offer he is backing does not include such a "newco" option.
The Sale Sharks owner released a statement saying: "...for the avoidance of doubt, our offer is conditional on a CVA [Company Voluntary Arrangement] and the delivery of [owner] Craig Whyte's shares.
"If successful, this will retain the SPL membership share in RFC 1899."
Following Sunday's 3-0 defeat by Celtic, McCoist expressed fears of liquidation and lamented his inability to plan for next season.
But, speaking ahead of Wednesday's match with Dundee United, the Ibrox boss was more sanguine on the club's future.
"I spoke to the administrators last night and they were still involved in ongoing discussions with two potential purchasers," he explained.
"We can't really afford to go any longer at all.
"I would be really, really hopeful from what I'm hearing, what I've been told, that there would be a preferred bidder named this week.
"I think there is no liquidation at all with any of the two parties involved.
"That's my reading into the situation. I just hope I'm correct in saying that.
"Not being totally business-minded, I think the two offers - certainly one and very probably the other - do consist of newcos, but I have been told that does not involve liquidation."
In the continued absence of rule changes, the Scottish Premier League board have the discretion to deal with a newco request.
And SPL chief executive Neil Doncaster gave strong hints that he would be amenable to a "new Rangers" joining the top flight.
"I'd have to be heartened and encouraged by that," McCoist said when asked about Doncaster's stance.
"But it's a tricky and delicate situation because there will be teams who feel we should be punished and I can totally understand that.
"So we have to balance that up. Is it worth our while staying in the SPL if they make us non-competitive or is it more beneficial for us to go down to Division Three and build again?"