Ivory Coast's Yaya Toure 'key' to City victory
Last updated on .From the section Football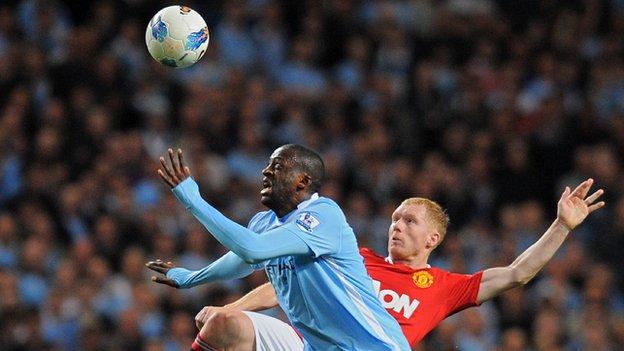 Ivory Coast star Yaya Toure has been praised for the key role he played in Manchester City's vital victory over city rivals United on Monday.
The midfielder, who has been central to the revival of his club's ambitions, was again at the heart of the action.
The BBC said he had been "dominant" during the derby against City's rivals for the Premier League title.
The Daily Telegraph described him as "magnificent" and said he had "given everything in securing the win".
City now top the table on goal difference, with both teams having two games left.
After controlling the midfield all evening, Yaya came close to confirming the win with a goal of his own, but shot wide after a charging run.
But that did not detract from recognition of his importance to the final result.
Former Tottenham Hotspur manager David Pleat, writing in The Guardian, described "the liberated Ivorian charging through the middle, to leave United wary of being caught on the break".
Fans across Africa were watching the game, with support for City particularly intense in the Toure brothers' home of Ivory Coast.
"It was a very good match - a passionate one, because we saw one of ours, Yaya Toure, play a key role," one fan in Abidjan told the BBC after the game.
"We think City has taken the lead in the race to the title."
Other fans pointed out that Yaya and the rest of the Manchester City squad still have work to do - with a trip to Newcastle United and a home game against QPR to come before they can truly claim the crown which has eluded them since 1968.
And Manchester United will be waiting to pounce on any mistakes they make.