Matt Bloomfield column: The hurt of relegation

By Matt Bloomfield
Wycombe Wanderers midfielder
Last updated on .From the section Football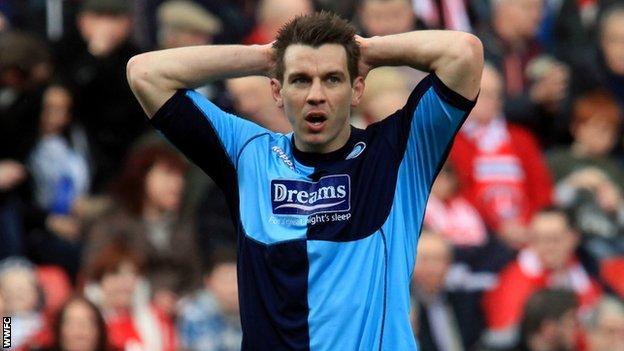 Relegation. It's the word that cuts deep into the pride of professional footballers. It's the word that I have spent the weekend dealing with and trying to come to terms with. It has certainly cut deep into my pride.
I have written before about the differences between winning and losing. Being desperate to win is something that comes from deep within. Losing is just not an option.
At the start of the very first day of pre-season, before you have even set off on your first lung-busting run, you have an idea in your head of what the aim is for the season. More often than not it is simply to win promotion or to avoid relegation.
You then work for 10 months to achieve that target. When you come up short it is very difficult to take.
It's hard to describe how I was feeling after the game on Saturday. A feeling we had let the club down, our manager down, our supporters down, ourselves down.
A few of us just sat in the changing room for an hour or so trying to digest what had happened. By the time we had a shower they were cold. It seemed to sum up the day perfectly!
For some reason this morning's training couldn't come quickly enough. It was almost as if I needed to get back into the club and get on with my work.
Sitting writing this column today has not been easy. I usually love sitting down after training and getting my thoughts out. But today I didn't want to write about relegation. I didn't want to write about losing.
Unfortunately it has happened and we have to deal with it. We still have a role to play in the finale of the League One season when we play against Sheffield Wednesday on Saturday. Both Sheffield Wednesday and Sheffield United are massive clubs who should be higher than League One.
They have both had fantastic seasons that will come to a head on the final day of the season. One team will be promoted with the other having to face the lottery of the play-offs.
We will be going all out to end the season on a high. We owe it to the club and the fans to give the very best we can. We also owe it to Sheffield United fans and I'm sure the Exeter players will be feeling the same about their game against the Blades.
Stevenage have had yet another fantastic season to be occupying the last remaining play-off spot. They will be hoping to hold off the challenge of Notts County and Carlisle going into Saturday's games, but with each of the three teams harbouring ambitions of finishing sixth, it promises to be an exciting day at the top of the league.