Nigel Adkins wants to establish Southampton using young players
Last updated on .From the section Football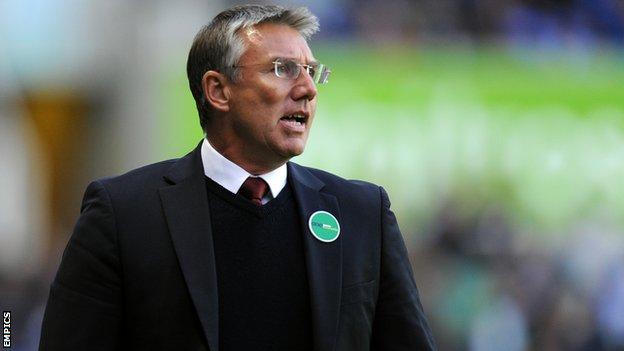 Southampton boss Nigel Adkins says he wants a youthful side to consolidate themselves in the Premier League.
Adkins wants to fill his newly-promoted team with young talent from the club's own academy.
"We endeavour to get 50% of our home-grown players through to the first team," Adkins told BBC Radio Solent.
"It's about a spirit that we've got, a Southampton way. We've got a good environment to improve, to learn, to work hard and to develop."
He added: "The object is to get them through, we've got to make sure there's a pathway for them. That's the vision that we've got, we've got to keep driving on."
Adkins also revealed that players who are brought in from other clubs will be closely vetted to check they match the club's ambitions.
"We're ahead of schedule, we've got a group of players, we will add to the group of players, but for whoever comes into that group it's important that we get our homework right on them so that they fit in and add something to the group or buy into the philosophies that we have," he added.
The Saints boss also admitted that he has been inspired not only by teams who have recently established themselves in the top flight after winning promotion from the Championship, but by Roger Bannister's feats in 1954.
"In any walk of life you're looking for people who can inspire you. Norwich and Swansea have done it very very well and even QPR have the opportunity to go up and stay up. It's proved it is possible.
"It's like Roger Bannister running the [sub-] four-minute mile. I read the book the other week and that's quite awe-inspiring.
"When you look at the three guys trying to break the four-minute barrier and then all of a sudden it was broken and several people were able to follow and break it quickly afterwards. It's like anything; if you believe it's possible then it can be done."