Cardiff boss Mackay bans players from Twitter & Facebook use
Last updated on .From the section Football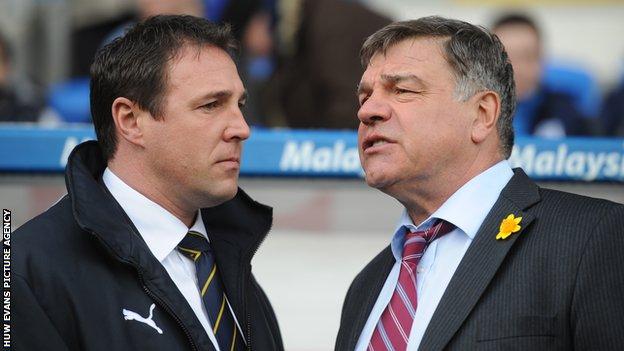 Cardiff boss Malky Mackay has banned his players from using Twitter and Facebook ahead of the play-off semi-finals against West Ham United.
The Bluebirds host Sam Allardyce's side on Thursday before the return leg at Upton Park on Monday.
Mackay withdrew players from a press conference this week and has banned social media use.
"I want the players focused on their game, their training and the two matches coming up," said Mackay.
"All focus is on that and no focus is on anything else other than just living the best they can for the next seven days because there will be so many rewards for that."
Cardiff's impressive season, which has included a run to the Carling Cup Final, has come after a summer of squad rebuilding.
Mackay, who was appointed Bluebirds boss in June following Dave Jones' departure, brought in a number of new players after 12 of last season's squad departed the Cardiff City Stadium.
Cardiff beat West Ham at Upton Park on the opening game of the current Championship campaign and Mackay is hoping for a repeat performance and result at Cardiff City Stadium on Thursday.
"Going into that game we were trying to put a team together to play at Upton Park, six weeks before. It was daunting," said the Cardiff boss, who made 18 appearances as a player for West Ham in the 2004-05 promotion-winning season.
"When we scored in the last minute it was a smashing day, but we knew there was an awful lot of work to do.
"I think if you said to me at that point that we were going to make the Carling Cup Final and be one of the [play-off] semi-finalists, I'd have bitten your hand off at that point, with the group that were there."
West Ham finished two points behind Southampton in the race for an automatic promotion spot, while Cardiff kept their hopes alive after Saturday's 2-1 win at Crystal Palace secured the sixth and final play-off spot.
Should Cardiff win through against West Ham, they will face either Birmingham or Blackpool in the play-off final at Wembley.
But for now, Mackay is firmly focused on the first semi-final on Thursday.
"It's a 180 minute game, we know that the end of the first game's only half-time," added Mackay.
"There's no point in celebrating at the end of that first game.
"There's another game to happen and it'll not be until Monday [7 May]... until that's decided."