Can Russia build on their Euro 2008 success at Euro 2012?
By Marc Higginson
BBC Sport
Last updated on .From the section Euro 2012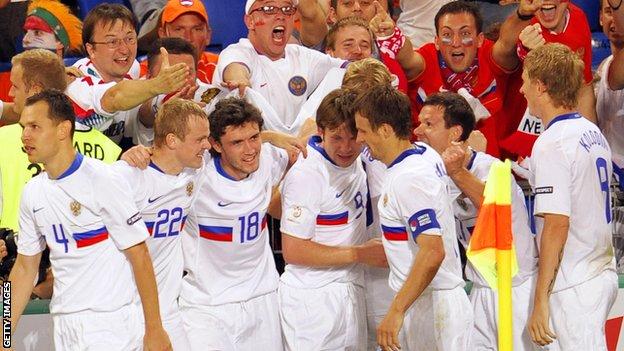 One of the enduring images of Euro 2008 was the free-flowing football played by Russia on their route to the semi-finals.
The feelgood factor continued in Austria and Switzerland before Russia were beaten by eventual winners Spain in the last four.
And after breezing through Euro 2012 qualifying by winning seven of 10 matches, they look capable of getting past Poland, Greece and the Czech Republic in Group A this summer.
The core of the current team is made up of players who shocked Europe four years ago but, despite this, and the fact that qualification was achieved with minimal fuss, some Russian pundits are worried age might be catching up with their golden generation.
"I don't think the team is looking good," Moscow News journalist Evgeniya Chaykovskaya told BBC Sport.
"The problem now is, the guys from 2008 are still the core of the team. The average age is about 28, which is quite high.
"We might get out of the group, but then we would have to play somebody out of Group B, like the Dutch or Germans, and the chances of beating either of those two teams is not great."
Should the gradual improvement of recent years stop, it would be worrying for a country which is hoping to impress both on and off the pitch when they host the 2018 World Cup.
And it is this scenario which worries Chaykovskaya most.
"I think Russian football peaked in 2008 when the national team did well in the Euros and Zenit won the Uefa Cup," she said.
"There should be somebody of the age of Jack Wilshere who we can build around, but nobody springs to mind.
"[Manager] Dick Advocaat is always criticised for not bringing through any new players but his response is that there are not any younger players of quality out there."
Considering the fact that Russia Under-21s are top of their qualifying group for the next European Championship, such forecasts of struggle seem harsh.
However, according to Chaykovskaya, the problems run much deeper for a number of reasons.
Teams like Anzhi Makhachkala, financed by billionaire owner Suleyman Kerimov, are spending heavily on foreign imports like Samuel Eto'o - and Chaykovskaya does not believe that is good for the development of home-grown talent.
"They say they have been doing things [to produce more players in Russia], but I have not seen any evidence of that," she said. "It all comes down to projects like Anzhi.
"Another problem in Russia is that there are not enough pitches for kids to play on, and even if you do get a very talented player, if they don't live in Moscow or St Petersburg, it would be very difficult for them to get noticed.
"It's a big country, and is too difficult to get from one place to another. There is very little [development work] done in the regions.
"If you look at the cities that have been chosen to host World Cup matches, it is basically coming to the European part of Russia. I think it will end up being the same cities [Moscow and St Petersburg] who will benefit."
Chaykovskaya's views are shared by Ivan Kalashnikov, the deputy editor of the sports.ru website.
And he believes the government needs to intervene in the development of players - citing Germany as a classic example of how to nurture young talent.
"We don't have a youth system at all in Russia," he said. "There are schools and academies, but they are not functioning properly - it needs a big change.
"Germany revamped their youth system in the late 90s and they had to wait about eight to 10 years to produce a brilliant team at the last World Cup.
"Of the Russian clubs in the Premier League, I would say there are only three or four functioning academy systems - Spartak Moscow, Zenit, their youth academies are good - but others see it easier to buy a promising young Brazilian player than raise their own.
"If they [the Russian Football Union] want to change this, it should be government-funded, or they should make people interested in the project where they might want to invest in a private initiative.
"People at the Russian Football Union have thought about it, but I don't think any steps have been taken."
A quick look at the fortunes of Russia's European Under-17 Championship-winning squad underlines how important it is for top clubs to field homegrown players.
"In 2006, the Under-17s won the European Championship but I think just two of this squad are starters in the Russian Premier League," said Kalashnikov.
"The rest of the team have not made it to the top level, they have just disappeared."
Those forgotten players might not be needed this summer, with Andrai Arshavin, Roman Pavlyuchenko and Fulham's Pavel Pogrebnyak still around.
However, the need for new and talented faces in the squad will become apparent once those leading lights see their star begin to fade.